Marietta College VP named President at Indiana college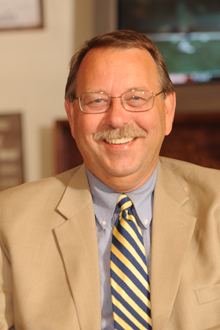 Dr. Robert Pastoor, who has served as Marietta College's Vice President for Student Life for five years, will become the 18th president at St. Joseph's College in Rensselaer, Ind.
Pastoor's presidency will begin March 16. He replaces interim President Dr. Stephen Hulbert, who took over on July 1, 2014. Prior to that, Dr. F. Dennis Riegelnegg served as SJC's president from July 2009 to June 2014.
"I would like to thank Dr. Jean Scott, Dr. Joe Bruno, and the Board of Trustees for the privilege of allowing me to serve the Marietta College community," Pastoor said. "Over the past five years I have been able to work with some extremely professional, talented, and caring staff and faculty members, and students. I will greatly miss all of these individuals, but I am also looking forward to the opportunity that has presented itself at Saint Joseph's College. My five years at Marietta College have been a blessing for me and my family and I will forever be grateful."
St. Joseph's College is a four-year, Catholic college offering 27 majors, four group majors, 35 minors and nine pre-professional programs. It also offers three master's degree programs. Founded and sponsored by the Missionaries of the Precious Blood, St. Joseph's is about 90 minutes from both Chicago and Indianapolis and has an enrollment of about 1,200 students.
President Bruno said he is excited that Pastoor is getting an opportunity to fulfill this professional goal, and he is confident he will be a real asset to St. Joseph's. However, he knows Pastoor's contributions to Marietta College will be missed.
"During his time at Marietta College, Bob has been an advocate of the students and a valued member of the senior leadership," Bruno said. "I am pleased that Dr. Pastoor will realize a professional goal in this next phase of his distinguished career. But I will miss the wisdom, leadership, experience and professionalism he has brought to his work at Marietta College for the past five years."
Pastoor has more than 30 years of student affairs experience, including 25 years as a vice president at five institutions. He earned his Ph.D. of Educational Leadership from the University of Montana. He also has a Master of Education in Counseling from McDaniel College and a Bachelor of Science in History and Education from Mount St. Mary's.
Pastoor and his wife, Ann Marie Lynch, have three children — Thomas, Tully and Marijka.