Marietta Fund is one way Terry Pagliari '64 stays connected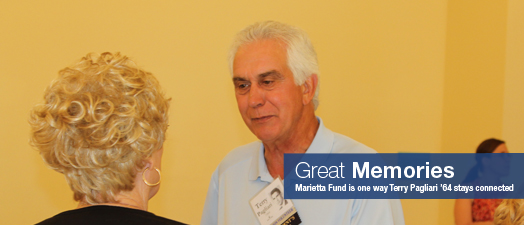 Every time Terry Pagliari '64 would take a few steps, another classmate would stop him to chat.
And each time, Terry was glad to pause and reconnect with the fellow Pioneer during the Golden Reunion Weekend at Marietta College, which ran from May 30-June 1.
"I don't get back as much as I'd like, but it's great to be back on campus and see some of my former classmates," he says. "I wish there were a few more of us here, but I also realize some of us are gone and others live too far away to make it back for the weekend."
Terry made the trip from his home in Collierville, Tenn., and made it a point to participate in as many events as possible during the weekend — including a fun trip on the Valley Gem sternwheeler.
"The campus is very impressive, especially all of the new buildings that have gone up since we left," he says. "The whole city has changed a lot too. The hotel I'm staying in wasn't here. Heck, we didn't even drive past the old Shoney's Big Boy back when we were here. There was nothing where the Walmart is now. Marietta was a little town and most of us really enjoyed being a part of the College and community."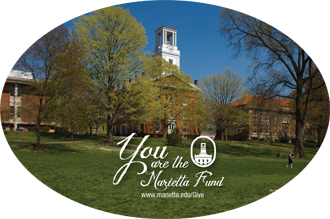 ​Pagliari was one of about 50 alumni who returned for the Golden Reunion Weekend, which honored the Class of 1964 on its 50th anniversary.
"We had a wonderful weekend for all of the alumni and their family and friends who came back to Marietta this year," says Ann Nicely '03, Associate Director of Alumni Events. "We couldn't have asked for better weather, and the attendees had a great time rekindling old friendships and reminiscing about their experiences on campus from 50 years ago."
Nicely says the Class of 1964 also made a gift of $92,615.60 to The Marietta Fund as part of the Reunion Weekend activities. The class presented the check to President Joseph W. Bruno.
Brandee Norris, Director of The Marietta Fund, was extremely thankful to the class for making the gift in a year when the goal is at its highest ever — $1.85 million.
"We are coming down the homestretch to reach our goal as we must reach the goal by June 30 — the close of Marietta College's fiscal year," she says. "The Class of 1964 made a generous gift and we thank them for their support of the College and the difference they help make in the lives of our students and faculty."
Terry and his wife, Cindy, made a donation through the Class of 1964 challenge. Since his graduation, Terry has given to The Marietta Fund on a regular basis.
"I just feel Marietta College gave so much to me and really made a difference in my career," says Terry, who earned a degree in Petroleum Engineering, but spent the majority of his career in real estate. "The Marietta Colleges of the world need people like us to make donations every year. I thought tuition was a lot when I went to school — and for my family and me, it was a lot. Making a donation like this every year is my way of saying thank you and hopefully making the experience today memorable."
Norris says it was exciting to see Terry and other members of the reunion return to campus.
"Terry's long-time support is so important to helping the next generation of The Long Blue Line," Norris says. "It was so great to see Terry reconnect with so many friends during the Reunion Weekend — for many it was almost like they were just here yesterday."
As a Marietta College undergrad in the early 1960s, Terry was an active member of campus and had an "incredible" experience. He was the Student Body President in 1963-64 and played on a number of intramural teams throughout his four years.
"I guess someone had to be president, but the best part about it was having Dr. Jack Prince as the adviser," Terry says. "He was an amazing person and having an opportunity to get to know him better during that time is something I have always cherished."
Terry Pagliari is The Marietta Fund.