Marietta graduates 36 during Physician Assistant commencement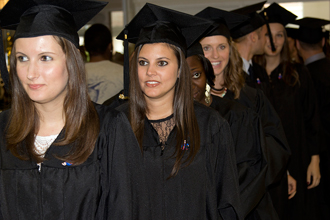 As Marietta College welcomed its 10th graduating class of the Master of Science in Physician Assistant Studies on Saturday (July 13), it also said good bye to the founder of the program — Dr. Gloria Stewart.
The commencement ceremony for 36 graduates was Stewart's final assignment as the program's director and now she said she's ready to move to Florida.
"I still have a lot of packing to do," she said.
During his charge to the Class of 2013, President Joseph W. Bruno acknowledged Stewart's many contributions to the program and to the Marietta campus.
"One vision of an effective leader is that he or she is irreplaceable. And make no mistake, it will be a challenge to replace Dr. Stewart," Bruno said. "But another, better vision is of a leader who has prepared such a strong foundation for success that the program will continue to flourish and grow even after a leadership transition. I am convinced that we are in that fortunate position, and all of us are deeply grateful to Dr. Stewart for putting us there."
A number of academic awards were presented during the ceremony.
Highest GPA Didactic Year — Anne Acton (Cranberry Township, Pa.), Jonathan Casto (Vinton, Ohio), Alexandra Klinchenko (Brunswick, Ohio), Shawna Mincks (Belpre, Ohio), David Sams (Athens, Ohio) and Jamie Torok (Cincinnati, Ohio)
Highest GPA Clinical Year — Ashley Eschbaugh (Marietta, Ohio), Casto, Klinchenko and Sams
Highest GPA Overall — Casto, Klinchenko and Sams
Pi Alpha Honor Society: Elizabeth Blank (Prescott, Ariz.), Jessica Fortman (Findlay, Ohio), Amy Valentine (Waterford, Ohio), Sarah Ruppenthal (alumni) and Torok
Other graduates were: Jessica Balsei (Bellaire, Ohio), Gifty Berko (Westerville, Ohio), Laura Braden (Caldwell, Ohio), Erin Clark (Summit Point, W.Va.), Charles Collier (Malvern, Ohio), Sarita Dhiraprasiddhi (Hilliard, Ohio), Jessica Imperio (Aurora, W.Va.), Laila Elkettani (New Stanton, Pa.), Jason Ernst (Mount Orab, Ohio), Shannon Forgac (North Lima, Ohio), Clay Friddle (Paris, Texas), Brett Gage (Morgantown, W.Va.), Meredith Hester (Reston, Va.), Brittany King (Paden City, W.Va.), Ashley Lockhart (Beverly, Ohio), Lauren Miller (Moon Township, Pa.), Kathryn Mueller (Tipton, Mich.), Laura Muyres (Rochester, Minn.), Jennifer Rockhold (Lima, Ohio), Marissa Scalish (Mayfield Heights, Ohio), Brian Shrimpton (Cincinnati, Ohio), Jeffrey Sommers (Clinton Township, Mich.), Benjamin Spurlock (Milton, W.Va.), Ashley Steinke (Meridian, Idaho), Alexa Terry (Cross Lanes, W.Va.) and L'lee Zimmerman (Lisbon, Ohio).