Marietta to host Japanese National Debate Team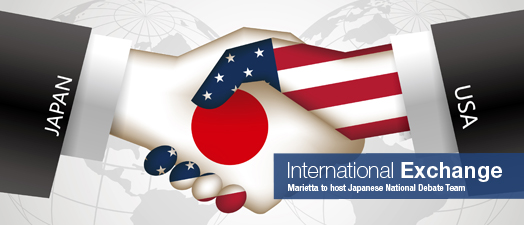 After journeying thousands of miles from Japan to the United States, two special guests will be welcomed to the campus of Marietta College to learn more about this community, share information about their culture and debate the legality of recreational marijuana use.
"The students from Japan are a part of the CIDD Japanese National Team," says Dr. Tomeka Robinson, Assistant Professor of Communication and Director of Marietta College's Forensics and Debate Teams. "The students are not representing a specific university, but rather they audition for spots on the national team. The purpose of the tour is to broaden the scope of international educational and cultural exchanges and reinforce the importance of dialogue as a preferred means of resolving international and intercultural differences."
The Japanese team — comprised of students Naoki Takami and Amane Hirota — arrived in the United States in early March and will arrive in Marietta on Sunday, March 23, for a two-night stay.
On Monday, March 24, the College will host a Coffee and Culture event, which starts at 9 a.m. in the Fireplace Lounge in Andrews Hall. The campus community is invited to stop by and chat with the guest debaters about Japan during this two-hour casual event. A special lunch in the Betty Cleland Room will follow for McDonough Leadership students, Asian Studies and Forensics programs. From 1 to 3 p.m., students, staff and faculty are invited to a U.S./Japan Debate Workshop in the Great Room in Andrews Hall.
"Then, from 6 to 7:30 p.m., we will have the Global Palate with two of our students debating the two students from Japan," Robinson says. "The students from Marietta that will debating them are Ryan Childers '16 (Vincent, Ohio) and Clayton Evans '17 (Salem, W.Va.). They are debating the topic of whether recreational use of marijuana should be legalized."
In order to be considered as a stop for the Japanese National Team, organizers at Marietta had to submit a bid that included information about campus, why the College wanted the debate team to come, and a list of activities that could take place during the visit. Robinson believes one reason why Marietta's application stood out was because multiple campus partners became involved in the planning of activities for the visit. Representatives from the departments of Communication Studies and Asian Studies, the Office for Diversity and Inclusion and the McDonough Leadership Center helped organize events for the team. Marietta College Forensics students are also helping with the debate workshop and the exhibition debate.
"We are the only small liberal arts school on their 10-school tour and we are working very hard to ensure that the students have a great time in Marietta, Ohio," Robinson says. "There is a working group of faculty and staff that are working closely with me on the details of their visit," including Provost Karyn Sproles, Dr. Richard Danford, Dr. Luding Tong, Dr. Liane Gray-Starner, Dr. Chaya Chandrasekhar, Dr. Ihor Pidhainy, Dr. Gama Perruci, Prof. Cheng Li and Communications Assistant Beverly Renner.
Evans is excited about having the opportunity to participate in the international debate. He first became interested in debate after his advisor, Dr. Mark Schaefer, directed him to Robinson because he had expressed an interest in declaring as an Organizational Communication major. Robinson noticed how much Evans enjoyed public speaking, so she invited him to come to a Forensics meeting. From there, he was hooked.
Evans and Childers usually debate in Parliamentary format — a format in which debaters are not informed of their topic until the competition and have only 15 minutes to build their case.
"This means that we know the topic way before the round and have to write a very solid case for both sides, as we will not know which side we will be defending until the round," Evans says, though neither team can bring evidence into the debate and must rely on logic and solid argumentation.
Robinson says the local community is invited to watch the exhibition debate.