Marietta to inaugurate Dr. Joseph Bruno on Oct. 12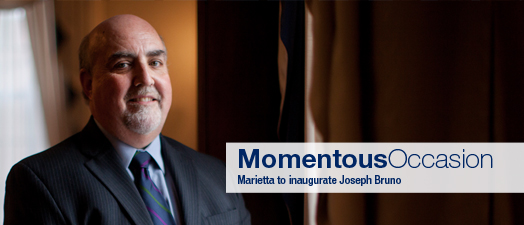 An excitement is building on campus as the College awaits the formal ceremony inaugurating Dr. Joseph W. Bruno as the president at Marietta.
On Friday, Oct. 12, 2012, Bruno will officially become the 18th person ever to hold the title of Marietta College president. Board of Trustees Chair Barbara Perry Fitzgerald '73 will formally present the charge to Dr. Bruno as well as deliver to him the Charter of the College during the ceremony.
That afternoon, classes will be canceled so students, staff and faculty may join distinguished guests and the Bruno family for the inauguration ceremony that takes place at 3 p.m. in the Dyson Baudo Recreation Center.
"The opportunity to inaugurate a new president at Marietta does not happen often," says Linda Stroh, Director of Donor Relations. "For it to happen during the academic year and during the start of the 2012 Homecoming weekend creates a unique opportunity for generations of Marietta College students, past and present, to participate in this signature moment in our history."
The ceremony has been months in the making. Shortly after Founders Day in February, a committee comprised of faculty, administrators, staff and a student convened to plan what will take place during Bruno's installation as President.
"We visited other campuses that had recently inaugurated a president, spoke to many people by phone and through email, searched the Web and conducted our own research with the Special Collections to get as much information about what happens during the ceremony," Stroh says.
The processional will contain the platform party, Board of Trustees, the Cabinet, Emeritus Faculty and faculty. Alumni representing various classes will also march in the ceremony. After interim Provost Gama Perruci begins the proceedings and Fitzgerald introduces the Platform Party, delegates from various colleges, universities, learned institutions and government will offer their greetings.
Dr. Judith Brown, Emerita Professor of History at Wesleyan University is a guest speaker for the ceremony. Dr. Bruno served as a professor and in various administrative roles at Wesleyan for 28 years.
Also speaking during the inauguration is Lisa Bruno, the daughter of Dr. and Mrs. Diane Bruno. Her remarks directly proceed Fitzgerald's official charge to the President and delivery of the official charter of the College.
"During this part of the ceremony, Barbara Fitzgerald will state the charge to him as the president that he will safeguard the ideals of the College," Stroh says. "And then the charter is given to him as a symbol of his office."
Mattie Stowell '14 (Ashtabula, Ohio) served on the inauguration planning committee after being nominated by Ann Nicely '03, Associate Director of Alumni Events and Services.
Stowell, a biochemistry major, has met Dr. Bruno and believes he and his wife are a great fit for the College. She is ready to see how her and the committee's efforts take shape on Friday.
"My role in the planning was to find ways to get students involved and interested in the inauguration," Stowell says. "It was very interesting getting to see how much planning goes into something like this … and I'm really excited that I got to be a part of it."