Marietta inducts 11 into Tau Pi Phi honorary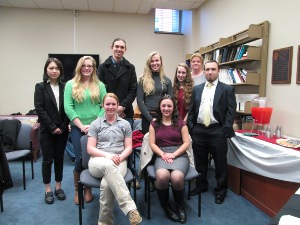 Marietta College's Department of Business & Economics inducted 11 students into Tau Pi Phi, the national business honorary, on Feb. 3.
The inductees were: Donald Burton '16 (Marietta, Ohio), Brittany Curry '15 (Newark, Ohio), Ann Goolman '16 (St. Johnsbury, Vt.), Tammy Holshu '17 (Fleming, Ohio), Katherine Johnson '15 (Pittsburgh, Pa.), Emily Jones '16 (Dublin, Ohio), DaiYi Li '17 (Beijing, China), Christian Long '15 (Lancaster, Ohio), Lauren Morain '16 (Harrison City, Pa.), Kate Reid '16 (Westerville, Ohio) and Eric White '17 (North Royalton, Ohio).
The officers were also elected by the membership: Caleb Hester '16 (Lancaster, Ohio), president; Morain, secretary; and Reid, treasurer.
A reception was conducted after the ceremony to celebrate the achievement.