Marietta mourns passing of beloved Geology professor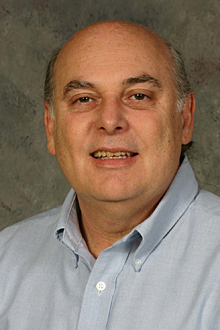 For three decades, Dr. Fred Voner was a staple in the Petroleum Engineering and Geology Department.
"He told me in January that he hoped he could teach for at least two more years," said Wendy Bartlett, Geology instructor and his longtime friend. "I told him I couldn't imagine teaching without him."
On Monday morning (March 7, 2016), Bartlett had learned that her friend since the summer of 1984 had died of undiagnosed liver cancer. He was 63.
"This disease has been vicious," Bartlett said, describing the multiple sclerosis that she believes began affecting Voner since around 2005, when the department was temporarily housed in Mills Hall due to renovations to the Edwy R. Brown Petroleum and Geology Building. "The progress of this disease is never paused."
Despite Voner's struggle with MS, he maintained a full teaching load — and often an overload of courses.
"He loved to teach," said Laura Pytlik, the academic secretary for the Petroleum Engineering and Geology Department. "Teaching is what kept him going; it's why he got up in the morning."
Bartlett said Voner wanted to teach before he knew he wanted to study geological sciences.
"He stumbled into geology," she said. "He was a brilliant man and he loved the sciences. Somehow, he managed to take a geology class (while an undergraduate student at the University of Maine-Farmington) without having completed the prerequisite. He told me he knew right then that this was the science he wanted to study. And it was a professor at Farmington who encouraged him to go into teaching."
As an undergraduate, he worked as a short-order cook and also taught science classes to Vietnam War veterans. He then moved on to Miami University in Ohio to earn his master's and doctorate degrees. His doctoral studies brought him to Labrador, a maritime Canadian providence.
"He had to be dropped off by boat or helicopter and survived for weeks at a time to study igneous and metamorphic rocks," Bartlett said. "He was so knowledgeable in geological sciences. There was not a field in geology that he was not conversant in, and he particularly loved teaching courses that involved chemistry."
Voner began teaching at Marietta College in 1982, after Warren Steel retired. Bartlett met him while visiting her friend, the late Dr. Dwayne Stone, who was head of Geology at that time.
"Stoney said to meet at the Lafayette Hotel for lunch and said he wanted me to meet the new faculty member, Fred Voner," she said. "The first thing I noticed was his strong Boston accent because my whole family talked like that."
Voner grew up in Cambridge, Massachusetts, one of four children of the late Frederick and Rita Flynn Voner. His father's family— whose name was Vona, not Voner — immigrated from Italy and his mother's family immigrated from Ireland.
When Bartlett joined the department in 1999, she learned firsthand why so many of Voner's former students often wrote to and visited him.
"The students respected him," she said. "He had a way of keeping control over his classroom. He could discipline students without ever humiliating them. That's very hard to do. He always looked at different ways of teaching, particularly structural geology, which is an upper-level class. And he was very good at bringing critical social issues into the curriculum of all his classes."
For years, Voner and Stone took groups of students to Utah during the summers to search for fossils. One of his groups found an Apatosaurus skull still connected to vertebrae.
As an instructor new to the classroom, Bartlett said Voner would often give her teaching insights via his unique sense of humor.
"Fred would walk past my office door and say, 'Sometimes you'll receive a call that a student is far too sick to come to class,' and, just then, my phone would ring and it'd be a student. Or he'd say, 'Sometimes a student's grandmother dies more than once during a semester.' At that point, he had been teaching for 17 years, so he had seen and heard all the excuses."
Voner worked with Dr. Bill Hartel in developing a strong first-year experience program for new students. He'd have 20 to 30 freshmen advisees who weren't declared geology majors, and work with them to explore courses that led them to majors that fit their interests.
Over the past decade, as his health deteriorated, few people on campus knew of how much Voner had to overcome just to be on campus. Bartlett said he woke up at 3 a.m. to begin the arduous process of getting ready to leave the house, drive to campus and then maneuver his wheelchair to Brown. Sometimes, a student would meet him at his car to help him into his wheelchair.
"He did it because he loved to teach. He loved the students. Everyone in Brown loved and respected Fred," Bartlett said. "He was such a kind and gentle man, and he was brilliant."
His wife, Lee Voner, survives. A traditional funeral is not planned, but plans for a special memorial will be announced at a later date. Mrs. Voner requests donations in Dr. Voner's memory may be made to Marietta College's Geology Department in lieu of flowers.