Marietta names Joseph Sandman as Vice President for Advancement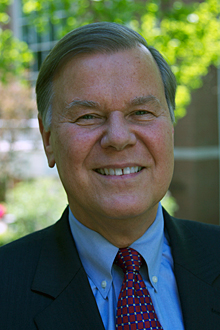 A veteran fundraiser with more than 35 years of development experience in higher education has been announced as the next Vice President for Advancement at Marietta College.
President Joseph W. Bruno has named Dr. Joseph G. Sandman to the post earlier today. Sandman will start in June.
"I am thrilled that Joe Sandman wants to join Marietta College and the dynamic team that we have in Advancement," Bruno said. "He brings a deep understanding of successful fundraising, and we are confident he will build and strengthen our partnerships with donors, alumni, parents, businesses and foundations. We can't wait until he officially joins us in June."
Before Sandman joined Grenzebach Glier and Associates as a Vice President in 2012, he was the Vice President for University Advancement at Seton Hall University for nine years. He designed and led the Ever Forward Campaign that secured $152.3 million, more than two-and-half times of Seton Hall's two previous campaigns. Seton Hall ranked second among 736 colleges and universities for increasing gift income most dramatically from 1997 to 2007.
"It is clear that Marietta College advanced dramatically under the leadership of former President Jean Scott — with the enthusiastic support of trustees, alumni, parents and friends," Sandman said. "It's equally clear that President Joseph Bruno is well equipped and deeply committed to build on this progress and lead Marietta to even higher levels of academic excellence and national distinction. It is an honor and a wonderful opportunity for me to join Marietta and its outstanding faculty and staff at this exciting time in Marietta's history."
From 1994-2002, he was the Vice President for Advancement at Loyola University Chicago. While at Loyola, Sandman secured the two largest commitments in school history at $13 million and $10 million.
Sandman also served as Vice President for University Relations and Advancement at Xavier University from 1991-94. During his time at the Cincinnati university, Sandman helped establish Xavier's first national alumni association. He was previously at Xavier from 1974-79 as Director of Career Planning and Placement and later as Director of Government and Foundation Relations.
From 1979-83, he was the Director of Foundation and Corporate Relations at the University of Notre Dame and was promoted to Director of Development, a job he held from 1983-91. He led the Strategic Moments Campus, which secured $463 million, 54 percent above goal.
Sandman earned a Ph.D. in English Literature from Notre Dame, a Master of Arts in English Literature from Xavier and a Bachelor of Arts in Philosophy from The Athenaeum of Ohio.
Sandman and his wife, Tracey, have three sons.
He will oversee a team of professionals dedicated to fundraising and external functions, including development, alumni relations, communications and public affairs.