Marietta names two faculty McCoy Professors for 2016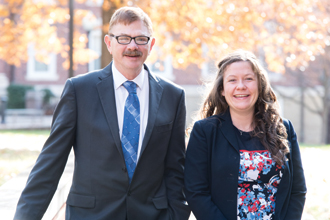 In a span of about 48 hours, Paul Daniell and Suzanne Parsons learned they had been recommended for tenure and were named the 2016 McCoy Professors.
"That was an interesting two days," said Daniell, who teaches thermodynamics, fluid mechanics and advanced heat transfer, as well as other classes in the Edwy R. Brown Department of Petroleum Engineering & Geology.
Parsons was more than surprised to learn the news.
"I was trying not to pass out right there," she said. "Then I told (Provost Janet Bland) not to worry that the pregnant lady is not going to pass out on you."
Daniell and Parsons join a prestigious group of faculty to receive this honor. Since its inception in 1995, the award has been earned 37 times.
The late John G. '35 and Jeanne McCoy established the four-year recognition plus stipend in 1993 as part of the McCoy Endowment for Teaching Excellence. After peers nominated Daniell and George, a group of nationally recognized teachers working outside of the Marietta College community reviewed their portfolios and observed their classes.
Parsons, who didn't decide she wanted to be a professor until she was in graduate school, said she changed her teaching style after attending a conference in 2012. "Until then, I was teaching how I had been taught in college," she said. "I'd lecture and here's the homework and here's the exam. I came away from that conference thinking, 'Wow I have a lot of work to do.' They talked about how today's students learn. That's when I started active learning in my classroom."
Now, if you walk by one of her classes, you might hear the students singing songs and doing dances to remember metabolic pathways. "We play games. We're learning Glycolysis with Glycolysis Go-Fish. It took me some time to think up these activities but they have fun," Parsons said. "They're playing Go-Fish for the first time since they were 5 years old. Instead of matching up the fish or the numbers, we've got the enzyme and the substrate that it acts on."
Provost Janet Bland, a McCoy Professor herself, believes Parsons is an excellent choice as a McCoy recipient.
"She is an energetic and engaged young faculty member, dedicated to the success of her students in the Chemistry department," Bland said. "She is an innovator in their departmental efforts to engage their majors in research with faculty as early as their freshman year. And her efforts toward this shared research experience are invaluable to our students. She is the sort of professor we like to build our future upon."
Teaching was never really a consideration for Daniell, who was more focused on a career with Dow Chemical. After 20 years in industry, a family tragedy and a disease which limited his travel caused him to consider a major career change. He decided that teaching was something he wanted to try.
"My first class was complete terror," he said. "I remember a very small class of students who had previously failed or dropped the class. In about the sixth minute, we all smiled and I started to talk about a very basic concept."
From there he was hooked and has become a valued member of the faculty. He believes his time in industry has really helped. "I hate sitting in lectures, with no participation. For this reason, I'm constantly tinkering with my teaching to flip the classroom and give students time to be involved."
Bland applauds Daniell in his accomplishment, and for all the work he does with students in and out of the classroom.
"Of particular note is the leadership role he has taken with expanding our relationships with partner schools for our Engineering Dual Degree program — thus opening many new opportunities for our students," she said. "And his years of experience in industry that he has brought to our students is so valuable to their overall learning experience at the College, thus he is a credit to our faculty."