Marietta places 17 on 'Who's Who Among Students' annual list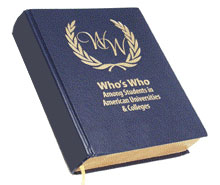 Seventeen Marietta College students were recently selected for the 2015 "Who's Who Among Students in American Universities and Colleges."
Since 1934 students have been honored in the annual directory as outstanding campus leaders of the year. "Who's Who Among Students" gives each chosen student national recognition as well as one of the most notable academic awards.
Students are nominated by committees and editors of the directory based on their individual academic achievement, service to the community, leadership in extracurricular activities and potential for continued success. 
This year's edition of "Who's Who Among Students in American Universities and Colleges" includes Marietta College's Kelly Cecora '15 (Ravenna, Ohio), Gage Freeman '15 (Cutler, Ohio), Julianne Gmys '15 (Pittsburgh, Pa.), Keenan Hamilton '15 (Woodsfield, Ohio), Alexandra Jurgens '15 (Walnut Creek, Calif.), Laura Keating '15 (Buckhannon, W.Va.), Alina Kielbasa '15 (Austintown, Ohio), Natalie Mayan '15 (Camden, Del.), Gretchen Miller '15 (Madison, Ohio), Hayley Montgomery '15 (New Albany, Ohio), Madison Moreno '15 (Clarkston, Mich.), Taylor Myers '15 (Beallsville, Ohio), Charlee Ottersberg '15 (Arvada, Colo.), Lindsey Schrock '16 (Alliance, Ohio), Bri Scott '15 (Cincinnati, Ohio), Monica Short '15 (Woodstock, Md.), and Ryan Turnewitsch '15 (St. Clairsville, Ohio).