Marietta places 21 on 'Who's Who Among Students' annual list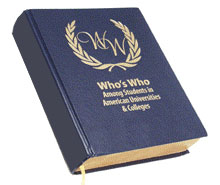 Twenty-one Marietta College students were recently selected for the 2014 "Who's Who Among Students in American Universities and Colleges."
Since 1934 students have been honored in the annual directory as outstanding campus leaders of the year. "Who's Who Among Students" gives each chosen student national recognition as well as one of the most notable academic awards.
Students are nominated by committees and editors of the directory based on their individual academic achievement, service to the community, leadership in extracurricular activities and potential for continued success. 
This year's edition of "Who's Who Among Students in American Universities and Colleges" includes Marietta College's Kathryn Anderson '14 (Walled Lake, Mich.), Luke Badaczewski '14 (Gibsonia, Pa.), Margaret Behlen '14 (Towson, Md.), Conner Busby '14 (Canton, Ohio), Joshua Counselman '14 (Wellsburg, W.Va.), Jessica Johnson '14 (Johnstown, Ohio), Amy Kauffman '14 (Carlisle, Pa.), Lindsey Kudaroski '14 (Washington, Pa.), Emily Lorek '14 (Troy, Ohio), Sydney Maltese '14 (Massillon, Ohio), Alexandria Martin '14 (Aurora, Colo.), Madison Moreno '14 (Clarkston, Mich.), Tawny Mutchler '14 (Bucyrus, Ohio), Brett Notarius '14 (East Amherst, N.Y.), Eric Onacila '15 (Strongsville, Ohio), Michael Phillips '14 (Harrison, Ohio), Margaret Posendek '14 (Broadview Heights, Ohio), Mary Roberts '14 (Circleville, Ohio), Nicole Schaly '14 (Ashland, Ohio), Emile Shartle '14 (Belpre, Ohio) and Ashley Thomas '14 (Garfield Heights, Ohio).