Marietta professor had big future ahead of him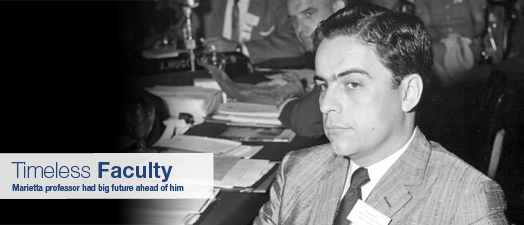 In the history of the College, it's well known that a sizeable number of graduates have gone on to accomplish historic roles — including becoming the Vice President of the United States, pioneering medical advances and manning Space Shuttle missions for NASA. The same can be said about many members of the faculty.
Cecil Harland Underwood was born on Nov. 5, 1922, in the small, unincorporated community of Josephs Mills, W.Va., in Tyler County, where he grew up working on farms during the Great Depression.
After graduating from high school, he enlisted in the Army Enlisted Reserve Corps during World War II and also enrolled at Salem College in nearby Harrison County. It was at Salem where he received his first taste of politics when he was elected student body president. He also met a young woman named Hovah Hall, a sister to two of his classmates and a graduate of Salem. He married Hovah, who was a talented musician, on July 25, 1948. They had three children: Craig, Cecilia and Sharon.
His first job after earning his degree was as a biology teacher at St. Marys High School in nearby St. Marys, W.Va. Two years before accepting a job as an instructor in the English Department and the Director of Debate at Marietta College in 1946, Underwood tried his hand at politics by running on the Republican ticket for the West Virginia House of Delegates. He was 22 when he won the first of six terms for that seat. He was the House Minority Leader four times during his tenure as delegate, which lasted from 1944-56.
The College relished in the ability of the up-and-coming political figure, who served many roles at Marietta.
"He first joined the Marietta College faculty in 1946 as an administrative assistant and later became an English instructor and coach of debating," according to an article that appeared in The Marietta Times. "Last February he resigned all duties except debate coaching. He accepted his new appointment as college counselor in November."
In that role, he advised high school seniors on how to select and prepare for college, requirements for certain careers and what careers were trending at the time.
"Mr. Underwood, 26, is a young man of unusual accomplishments," publicized the College in an advertisement. "But even more important, he has successfully worked with young people for the past five years, both as a high school teacher and as a college instructor and coach of debating. He knows their problems and their viewpoints and can help them effectively."
Underwood was among a number of faculty members who helped with the special needs of students who were returning from service during World War II.
In 1950, he resigned from all duties at Marietta to serve as the president of his alma mater, Salem College. During this time, he earned a graduate degree from West Virginia University.
His administration lasted until 1956 and led up to one of two of his greatest historical achievements: at 34, he was elected as the youngest governor of West Virginia. Shortly after Underwood took office, Marietta expressed its gratitude to him.
"Cecil H. Underwood, former Marietta College faculty member who will inaugurated as governor of West Virginia next Monday, will be awarded an honorary doctor's degree at Founders Day ceremonies Feb. 14," according to a Jan. 8, 1957 article that appeared in The Marietta Times. "He is the second public figure to be announced as a degree selection for next month's observance, which is being held in conjunction with the world premiere of the Col. Dean E. Hess life story Battle Hymn. The College said last week that Rock Hudson, Universal-International star who portrays Col. Hess in the movie, will also be honored."
President William Bay Irvine announced that Underwood would be hooded during the ceremony by Ohio Gov. C. William O'Neill '38. Several years earlier, O'Neill was presented with an honorary doctorate from Marietta. Like Underwood, he was a prominent political figure for his home state, though additionally O'Neill was the only person to have headed all three branches of Ohio state government.
West Virginia's Constitution at the time Underwood was governor mandated that governors could not serve consecutive terms, so he tried to win a U.S. Congressional seat in 1960 but lost to the incumbent. He also ran for the Republican nomination for later gubernatorial races, but lost those elections as well.
He shifted his professional attention from politics to the coal and chemical industries, created his own land development company and then returned to his first career: academia. He served as the president of Bethany College and taught at Marshall University. His reputation in academia also led to his service as president of the National Association of State Councils on Vocational Education.
While most 74-year-olds were considering retirement, Underwood had other plans. In 1996, he was elected to a familiar post: the governor of West Virginia, running a campaign for "Better Government, Not Bigger Government."
He became the oldest person elected governor of that state, though his re-election bid in 2000 was unsuccessful.
In 2004, his wife of 56 years died of a stroke. Two years later, Underwood suffered the first of two strokes. The second stroke, which happened in early 2008, left the former statesman unable to speak. On Nov. 24, 2008, former Gov. Underwood died.
Then-Gov. Joe Manchin, who is currently the state's U.S. Senator, confirmed his predecessor's death publicly, issuing a personal statement to the family.
"This is a very sad day for all of West Virginia," Manchin said. "We have lost a governor who, through his two separate terms, served our state and its citizens with honor and dignity and, most importantly, with class."
You can read past Timeless Faculty features or if you want to suggest a feature, please contact Gi Smith at gi.smith@marietta.edu.
Photo Credit: State Archives of Florida