Marietta ranked 7th Highest Valued College in entire nation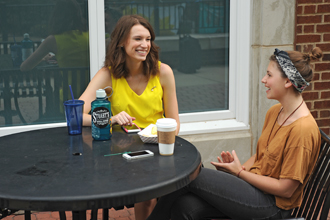 A Marietta College education goes well beyond the 44 majors, 18 varsity sports, 100-plus student organizations, study abroad opportunities and countless internships — those tangible elements Marietta markets to prospective and current students.
Current students, alumni, faculty and staff all know that it's the combination of those things, as well as academic and personal support, that contributes to the development of the critical thinkers and engaged leaders that our students become during their four years at Marietta.
And now, anyone who read The New York Times on Thursday knows this as well. In the Oct. 1, 2015, edition, a business article examined how typical college rankings didn't properly reflect the impact that graduation from certain colleges had on the lives of its graduates. Instead of looking at graduate income as the pecking order of colleges and universities, a new list by Brookings Institution Fellow Jonathan Rothwell ranks colleges by their highest value added, regardless of major. The article's author named it the "Brookings-Common Sense ranking."  
Marietta College is ranked No. 7.
"We have known for years about the value of a Marietta College education, and that has been a source of pride for us," President Joseph W. Bruno said. "I have met with a number of alumni over the past three years and what they've said about Marietta College echoes The New York Times article."
The article examines what liberal arts colleges offer to society.
"(Rothwell) acknowledged that liberal arts programs ... were valuable to both individuals and society. 'If your only goal is to make as much money as possible, you should study engineering, computer science, biology or business…But most people are interested in more.' "
Connor Walters '13 earned a degree in Journalism and a graduate degree in Journalism from the Medill College of Journalism at Northwestern University. He is now the Communications Coordinator, Mission at Saint Ignatius High School in his hometown of Cleveland, Ohio, and a contributing writer at Rowing Magazine.
"I think the entire Marietta College experience is credited for the person I am today and what I'm doing today," Walters said. "It doesn't surprise me that Marietta is the seventh in Value Added — I can't even put a number on what Marietta means to me and what it has done for me."
Dr. Gama Perruci, Dean of the McDonough Leadership Program, said the College has very specific goals for students.
"Our main focus is on leadership development. It is a powerful value-added component to a college education," Perruci said. "We're preparing students to become more effective leaders in all fields. It is part of the College's mission — to prepare for leadership. But, also in that leadership area, you have a host of related skills. Teamwork — the ability to work with a group of people on a common goal; communication skills; critical thinking — being able to assess a situation and quickly understand its importance; and the fourth one is problem solving — not only understanding the challenges, but also developing the strategies to address them. So I think we do a great job getting students to be more proactive; not just to accept what they're given, but to take on the challenges — making a positive contribution to the world."
As Walters prepares to run the Chicago Marathon in October — the second marathon he's ever run, it reminds him of his experiences at Marietta.
"Marietta allows you to do everything. There is a culture of having your hands in five things and doing them all well," he said. "You go after things — make your life happen the way you want it to."