Marietta ranked among 'Best for your Money'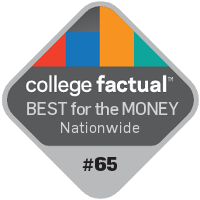 ​Marietta College, which has been historically ranked among the nation's best colleges and universities, was recently ranked one of the nation's "Best Colleges for Your Money," by College Factual.
The website ranked Marietta the 65th best value out of 1,223 colleges and universities across the U.S. Marietta College's tuition for 2014-15 is $32,215. Students also pay fees and room and board that make the overall cost of attending around $44,000. However, the average financial aid package is $27,500.
"As the chief enrollment officer at Marietta College, I am excited about this ranking and it helps validate all of the positive aspects we were already aware of," said Ron Patterson, Vice President for Enrollment Services. "We have outstanding students and faculty that make Marietta such an outstanding place, and we are also proud of the many accomplished alumni all over the world who are making a real difference in their communities."
Marietta also fared well in a few other College Factual rankings, including 423rd overall out of 1,394 Best Nationwide Colleges. Marietta was also ranked 18th in Ohio.
With a focus on providing sought-after data and unique decision-making tools, College Factual puts the college rankings process in the hands of students and parents. College Factual's ranking system is based on a series of algorithms that include information from the Department of Education, nationally mandated data reporting for institutions and Payscale. 
For more information about College Factual's rankings, visit www.collegefactual.com.