Marietta reaches historic annual fund goal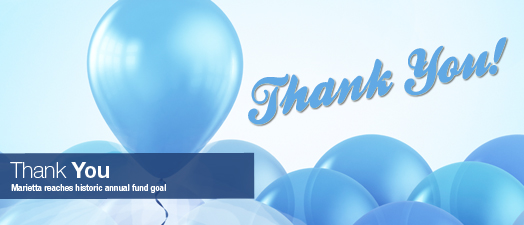 Michael Salnick '75 had plenty of memorable and life-changing experiences while a History major at Marietta College.
"I thought it was time to give back to a place where I had some of the best memories of my life," says Salnick, one of many alumni who supports The Marietta Fund. "Marietta was very special and I look back on those years with a smile and a most heartfelt feeling. I will continue to pay it forward with my support to The Marietta Fund and hope to become more involved with the College over the next few years."
Though College officials knew it was going to be a challenge to raise $1.85 million during the 2013-14 fiscal year (which ended on June 30), they also knew the Marietta College community was more than willing to help meet that historic Marietta Fund goal. In fact, 3,454 alumni and friends and made donations to The Marietta Fund during the last academic year.
"I am always impressed but never surprised by the tremendous support our alumni, students, staff and friends show the College," says Marietta President Joseph W. Bruno. "It heartens me to announce that, once again, our team of supporters has expressed their commitment to preserving Marietta College's excellence by helping us achieve the Marietta Fund goal."
The Marietta Fund goal for the 2014-15 fiscal year remains at $1.85 million. The fund supports every aspect of the College — from student financial aid and student life to staff and faculty development.
Brandee Norris, Director of The Marietta Fund, is grateful for the Marietta College community's commitment to protecting the integrity of the College.
"Every donation counts," she says. "Every gift impacts the quality of the student experience at Marietta College — academics, athletics, music, theatre — you name it, The Marietta Fund supports it."
Salnick, who has a son in high school, hopes to visit campus soon during the college search process.
"The last time I visited the College was about eight years ago when my daughter was a senior in high school," he says. "… we flew out, looked at the school and had a great day. I didn't want to leave."
Though his daughter chose to stay in Florida to attend a larger university, Salnick hopes his son might consider attending a small, liberal arts school that holds many fond memories for him.
"The faculty supported my education in a very positive way.  I was there in the days of Dr. Hartel, Professor Murdock, R.L. Jones and a young guy named O'Donnell," Salnick says. "These were great professors who were always approachable, gracious, and gave their time in and outside of the classroom. Professor Murdock encouraged me to apply to law school notwithstanding the fact that my LSAT scores were lower than I anticipated. Everyone was applying to law school at that time and it was extremely competitive. He told me not to give up or be discouraged and thank goodness he did so. I have been practicing Criminal Defense Law for 34 years in Florida and around the United States and enjoying every minute of it. I was glad I listened to him."