Marietta receives $100,000 from Knowlton Foundation to begin scholarship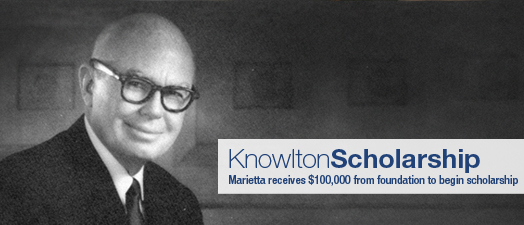 When Marietta College welcomes the Class of 2017 to campus in August, it will also greet the first Austin E. Knowlton Memorial Scholarship winner.
Marietta College President Joseph W. Bruno is pleased to announce that the Austin E. Knowlton Foundation, Inc., created the scholarship through a $100,000 grant. The first Knowlton Scholar will receive a $5,000 scholarship.
"We are grateful to the Knowlton Foundation for this generous gift and their support of Marietta College. The Knowlton Foundation has placed a great deal of trust in Marietta and we have every intention of delivering on those expectations and maintaining a long-lasting relationship," Bruno says. "It is important to all of us at Marietta to do what we can to make a college education more accessible, and the Knowlton Foundation has helped us make the College more affordable for future students."
Marietta College will work with the Cincinnati-based foundation to build strong futures for Logan County students interested in mathematics or related fields through the College's new Austin E. Knowlton Foundation Endowed Scholarship.
As long as the recipient remains in good academic standing at Marietta College, the scholarship will continue for four years. If no Logan County applicant meets the scholarship's criteria, the funds will be used to support a freshman from anywhere in Ohio who has an interest in mathematics or related fields.
"We have been fortunate to attract a number of strong mathematics students to our program from around Ohio," says Dr. John Tynan, Chair of the Department of Mathematics, Computing and Information Systems. "We are ecstatic to learn about the Knowlton Scholarship and look forward to welcoming Knowlton Scholars into our department starting this fall."
Knowlton, who was also known as "Dutch," spent his life designing and constructing more than 600 buildings, including hospitals, libraries and educational facilities on every major university and college campus in Ohio.
In addition to his success with Knowlton Construction Company, he helped to found the Cincinnati Bengals in 1967 and served as the National Football League team's chairman for 20 years. He also was a shareholder in Major League Baseball's Cincinnati Reds in the 1970s. A 1927 graduate of Bellefontaine High School in Logan County and a member of The Ohio State University Class of 1931, Knowlton earned a Bachelor of Science degree in architectural engineering. He died in 2003 at age 93.
Founded in 1981, the nonprofit Austin E. Knowlton Foundation seeks to promote and advance higher education in the United States and to provide direct grants and contributions to qualified colleges and universities. Learn more at www.aekfoundation.org.