Marietta receives Career Ready Internship Grant for $321,687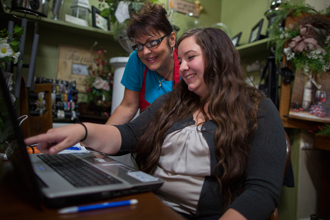 Marietta College will be able to increase the number of paid internship opportunities offered to students thanks to a $321,687 Career Ready Internship Grant from the Great Lakes Higher Education Guaranty Corporation.
Career Ready Internship grants are effective for three years (October 2015-May 2018). A record $12 million has been awarded to 33 colleges and universities in Iowa, Minnesota, Ohio and Wisconsin to create paid internships.
"We are excited that Marietta College was selected, and this should have a positive impact on our students and local businesses," said Hilles Hughes, Director of the Career Center. "This will allow my office to work with students who need an internship to graduate, or just to help them gain experience, but can't afford to do so in an unpaid capacity. We stress to our students that internships are an integral part of a college education. This will allow us to provide that many more opportunities."
Businesses, especially small businesses and nonprofits, can also benefit from this program, which allows talented and hardworking undergraduates from Marietta to come to work for them.
Ashley Chambers, Internship Coordinator for the Great Lakes Career Ready Internship Grant, said business owners in the area who are interested in exploring internship opportunities should contact her at ashley.chambers@marietta.edu or (740) 376-4924.
"I would welcome the opportunity to work with local employers and help them create internship opportunities that will provide a benefit to both the student and employer," Chambers said. "The possibilities for this program are endless."
Chambers said the grant will create 151 internship opportunities over the three-year term, including 45 in the first year.
Great Lakes' Career Ready Internship Grant program began as a $2.5 million pilot at 19 Wisconsin colleges during 2013-14, and led to $5.2 million in grants for 40 colleges across four states in 2014-15. Thousands of students have now participated in newly created paid internships in their fields of study, and 98 percent of these students either graduated or continued in their academic programs the following semester.
"Paid internships benefit students, colleges and employers," said Richard D. George, Great Lakes President and Chief Executive Officer. "Students gain meaningful workplace skills and are more likely to earn degrees and use their internship experiences to help secure good jobs upon graduation. Colleges will see increased graduation and job placement rates, and employers gain a pipeline to fresh talent. It's a win-win-win."
The new three-year grants require colleges to make an escalating cash match, which will encourage institutional sustainability. Great Lakes believes partnerships between colleges and employers will strengthen as the shared benefit becomes a shared commitment to cover an increasing percentage of funding for internships by the end of the grant period.
"We were thrilled to see so many colleges recognize that our funding could bolster the reach of their existing internship programs and sponsor new partnerships with area employers," said Amy Kerwin, Vice President – Community Investments at Great Lakes. "The 33 Career Ready Internship Grant recipients have embraced our desire to provide the greatest number of current and future students with an educational opportunity they might not otherwise have."
Knowing that education has the power to change lives for the better, Great Lakes Higher Education Corporation & Affiliates was established as a nonprofit group focused on a single objective: helping students nationwide prepare for and succeed in postsecondary education and student loan repayment. As a leading student loan guarantor and servicer, Great Lakes has been selected by the U.S. Department of Education to provide assistance and repayment planning to more than 8 million borrowers—as well as assistance to colleges and lenders nationwide. The group's earnings support one of the largest and most respected education philanthropy programs in the country. Since 2006, Great Lakes has committed nearly $154 million in grant funding to promote higher education access and completion for students of color, low-income students, and first-generation students. For additional information, visit home.mygreatlakes.org.