Marietta recognized by Princeton Review as one of the 'Best in the Midwest'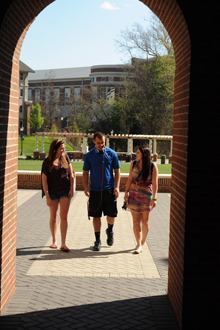 Marietta College remains one of the top colleges in the region for undergraduate education, according to The Princeton Review's 2014 Best Colleges: Region by Region. Marietta is one of the 155 colleges named a "Best Midwestern College."
The Princeton Review, an education services company widely known for it test prep programs and college and graduate school guides, posted the rankings Tuesday (Aug. 6) on the Company's website.
The 155 colleges chosen for its "Best in the Midwest" list are located in 12 states: Iowa, Illinois, Indiana, Kansas, Michigan, Minnesota, Missouri, Nebraska, North Dakota, Ohio, South Dakota, and Wisconsin.
The Princeton Review also designated 226 colleges in the Northeast, 124 in the West, and 138 in the Southeast as best in their locales on the company's "2014 Best Colleges: Region by Region" lists.
"We're pleased to recommend these colleges to users of our site as the best schools to earn their undergrad degrees. We chose these as our 'regional best' colleges mainly for their excellent academic programs," said Robert Franek, Princeton Review's Senior VP/Publisher. "From several hundred schools in each region, we winnowed our list based on institutional data we collected directly from the schools, our visits to schools over the years, and the opinions of our staff, plus college counselors and advisors whose recommendations we invite. We also take into account what students at the schools reported to us. Only schools that permit us to independently survey their students are eligible to be considered for our regional 'best' lists."
For this project, The Princeton Review asks students attending the schools to rate their own schools on several issues — from the accessibility of their professors to quality of their science lab facilities — and answer questions about themselves, their fellow students, and their campus life.
The schools in The Princeton Review's "2014 Best Colleges: Region by Region" website section are also rated in six categories by The Princeton Review. The ratings, which appear on the school profiles, are scores on a scale of 60 to 99. The Princeton Review tallied these scores based on institutional data it obtained from the colleges in 2012-13 and/or student survey data. The rating score categories include: Academics, Admissions Selectivity, Financial Aid, Fire Safety, Quality of Life, and Green. The Princeton Review explains the criteria for each rating score on its site.