Marietta remains one of the best in the Midwest in U.S. News rankings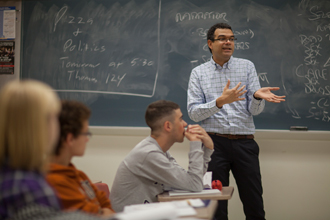 Whether you attended Marietta College in 1985 or you are currently enrolled, one thing has remained consistent — Marietta's ranking by U.S. News & World Report.
In U.S. News & World Report 2015 edition of Best College and Universities, Marietta is ranked sixth among Midwest colleges and universities. Marietta has been ranked every year since the publication started sizing up colleges and universities in 1985 — making this the 30th year for the rankings.
Marietta's overall score is 79 (on a 100-point scale), and dropped two spots in the rankings after finishing fourth last year. Ranked ahead of Marietta are Taylor (Ind.) University, Ohio Northern University, Augustana (S.D.) College, College of the Ozarks (Mo.) and Dordt (Iowa) College.
Marietta is tied with Cedarville University, Franklin (Ind.) College and Northwestern (Iowa) College.
Three areas Marietta excels in are Percent of Classes under 20 students (78 percent), Average Alumni Giving Rate (20 percent) and Peer Assessment (3.2 out of 5). The College's freshmen retention rate also remained consistent at 78 percent.
Over the past three decades, the U.S. News college rankings, which groups schools based on categories created by the Carnegie Foundation for the Advancement of Teaching, has grown to be the most comprehensive research tool for students and parents considering higher education opportunities.
U.S. News made significant changes last year to the Best Colleges ranking methodology to reduce the weight of input factors and increase the weight of output measures. 
In its methodology, U.S. News said, "The U.S. News ranking system rests on two pillars. The formula uses quantitative measures that education experts have proposed as reliable indicators of academic quality, and it's based on our researched view of what matters in education."
For more details on these changes, go to www.usnews.com/collegemeth.