Marietta sending 3 students to annual USNA Leadership Conference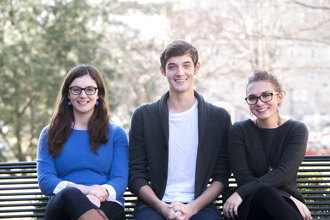 Marietta College's McDonough Center for Leadership and Business is sponsoring three students to attend the United States Naval Academy's Leadership Conference from Jan. 24-27.
"The USNA Leadership Conference will give our students a powerful opportunity to meet and interact with leadership students from other top leadership programs," said Dr. Gama Perruci, Dean of McDonough. "The 2016 topic aligns perfectly with our curriculum. We talk about Referent Leadership in LEAD 101; therefore, our students will be able to expand their knowledge of this topic through the presentations and conversations that they will have with other conference attendees."
The students chosen to attend are Matthew Johnson '19 (Marietta, Ohio), Samantha Welch '18 (Ennis, Montana) and Mandee Young '18 (Poca, West Virginia).
"The fact that the McDonough Leadership Program is among a very select and elite group of civilian institutions invited to the leadership conference is a really special and unique opportunity," Young said. "I'm very honored to be able to represent McDonough and Marietta College at this year's conference."
This year's theme will explore the challenges of building and sustaining relationships across different borders, cultures, and generations in a way that connects personally. By nurturing relationships in these multiple dimensions leaders can create opportunities to bring diverse peoples together in pursuit of a common purpose.
"I'm hoping to learn about how I can better work with other people's leadership styles," Welch said. "In today's workplace, many tasks require team leadership, and I find that I tend to work better when I am working alone. I'm hoping to get some insight on how to work more effectively with others."
Johnson said he plans to go into a legal career or do work for the government, and either way it will involve some form of international work.
"It is irrational to think that such a career will not elicit diverse scenarios; scenarios in which leaders and followers need to be educated on the proper inclusion and treatment of diverse people," he said. "I believe that by attending this leadership conference, I will be able to attain the knowledge necessary for understanding referent leadership and the significance behind developing diverse relationships, especially considering my future endeavors in international work."
Young believes the experience will help her with her many interactions with people on Marietta's campus.
"I could use the knowledge and skills learned at the conference to strengthen my involvement in organizations I'm active with on campus and in the work settings I plan to find myself in during future internships and professional settings," she said. "Learning how to cultivate and solidify such varied and valuable relationships would be a great asset to me personally and professionally. Different enterprises, cultures and generations are always addressed and worked with in the fields of advertising and public relations. Getting the chance to attend the conference, I know I will be able to take away a lot of valuable knowledge that I can apply to my future professional endeavors."