Marietta senior named Newman Civic Fellow by Campus Compact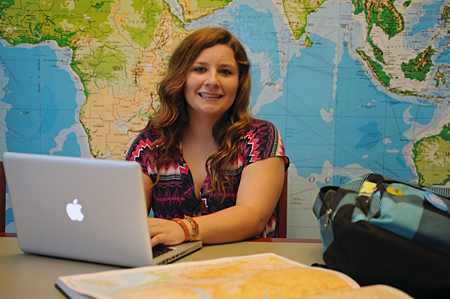 Campus Compact has named Marietta College's Sam Thomas '13 (Lorain, Ohio) as a 2013 Newman Civic Fellow because of her commitment to solving the challenges that communities face today.
Thomas, who is majoring in psychology, was among 181 student leaders chosen from across the nation to receive the distinction. Nominated by their college and university presidents, the students are making the most of their college experiences to better understand themselves, the root causes of social issues, and effective mechanisms for creating lasting change.
"Sam has immersed herself not only on campus but in the Marietta community over the last four years," said Arielle Jennings, Director of Civic Engagement. One of the assets of Sam's leadership in our community has been her focus on issues of hunger and food security. By having this focus, she has been able to reach a great depth in her impact and truly leave the Marietta community changed for the better."
As these students tackle community challenges, they provide fresh energy and perspective, inspire and mobilize others, and develop their own skills and potential. Through service, research and advocacy, Newman Civic Fellows are making the most of their college experiences to better understand themselves, the root causes of social issues, and effective mechanisms for creating lasting change.
Thomas has formed relationships with the Marietta community on many levels and has made a lasting impact. She served as an AmeriCorps*VISTA Summer Associate and started a new summer feeding site for youth in a rural area that lacked these resources. She continued her work related to hunger by coordinating the Food is Elementary Program in its inaugural year, overseeing 10 Food Educators in a program that delivers a 12-week nutrition education curriculum to all second graders in the community.
Thomas has not only dedicated herself to the Marietta community but has also contributed to creating positive change on campus. Through a service-learning course, she developed a curriculum for faculty and staff to understand the power of oppressive language and how the institution can address this in meaningful ways. Thomas is now preparing for a career in public service.
"These students represent the next generation of public problem solvers and civic leaders. They serve as national examples of the role that higher education can — and does — play in building stronger communities," said Campus Compact President Maureen Curley. 
Newman Civic Fellow awards are made in memory of Dr. Frank Newman, a founder of Campus Compact, who dedicated his life to creating systemic change through education reform. At the core of Newman's leadership was a belief in the power of individuals to make a difference and in the power of connection with others. Newman had a tremendous impact on American education and its role in the development of citizens who want to make a difference.  This class of Newman Civic Fellows embodies this spirit and dedication.
The Newman Civic Fellows Awards are made possible through the generous support of the KPMG Foundation.
For a full list of the 2013 Newman Civic Fellows click here.
About Campus Compact
Campus Compact is a national coalition of almost 1,200 college and university presidents who are committed to fulfilling the public purposes of higher education. As the only national higher education association dedicated solely to campus-based civic engagement, Campus Compact promotes public and community service that develops students' citizenship skills, helps forge effective community/campus partnerships, and provides resources and training for faculty seeking to integrate civic and community-based learning into the curriculum. Campus Compact's membership includes public, private, two- and four-year institutions across the spectrum of higher education. For more information, visit www.compact.org.