Marietta sophomore selected for NEW Leadership Ohio Program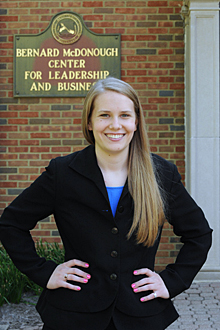 Marietta College's Chelsea Smith '15 (Vincent, Ohio) was recently named one of 30 women who will participate in the 2013 NEW Leadership Ohio Program from May 13-17.
The John Glenn School of Public Affairs and Department of Women's, Gender and Sexuality Studies at Ohio State University host the program.
"I am excited for the opportunity to enhance my skills as a leader," Smith said. "I know that I really enjoy the issue of power in terms of communications — both written and oral. Through the conference, I am hoping to learn more about what I would specifically like to do in my future." 
The purpose of this program is to educate Ohio college women about politics and policy-making to actively engage them in the political process.
Smith, an English major, will get to do the following during her five days in Columbus:
-- Meet with interesting and active women who are leaders in their communities, in grass roots organizations, and in local and state government.
-- Develop and sharpen your leadership skills through workshops on public speaking and advocacy.
-- Discuss the ways in which women can take on public leadership experiences during their college years.
"Chelsea has been an active leader at Marietta College," said Arielle Jennings, Director of Civic Engagement. "I am excited for her to have this experience and bring what she has learned back to campus."
Smith says she enjoys taking classes in a wide variety of disciplines and plans to take the necessary courses to graduate a member of Phi Beta Kappa.
"I also appreciate and savor every learning opportunity available to me," said Smith, who is also working on a Teacher Leadership Certificate.
While Smith prides herself on being a well-rounded student, she has learned that stories of diversity have become a passion.
"Many literary works capture the stories throughout history of people of all races and ethnicities. Unfortunately, slaves and colonized individuals often have their story told by their oppressors," she said. "The many slaves and colonized individuals, who were unable to tell their story, did not live a life of freedom; they did not have the same educational or political rights as whites. Further, many of them were illiterate, and none could vote or have a say within political matters. Slowly, slaves and colonized individuals obtained independence and rights."
These readings are shaping her future and what she hopes to accomplish.
"Today, diverse persons are still subject to prejudice, stereotypes, and unjust treatment. Every day, women and people of all minority groups struggle to obtain equal rights," Smith said. "As a woman, I am able to vote and work side by side with men, however I can still earn less money than white men for completing the same job. I would like to learn how I could advocate for equal pay for women even though I am only a college student."
Smith is actively involved through a tutoring program for immigrants to the U.S.
"I have learned about the injustices that continue to exist. I also actually had the opportunity to tutor immigrants who were preparing to take the citizenship test," she said. "In tutoring them, I helped them develop their knowledge of English and American culture. As I watched them struggle to surpass the difficult requirements of obtaining American citizenship, I realized how blessed I am to have the rights granted to an American citizen. I also realized that many Americans take their freedom for granted."