Marietta students inducted into new environmental honorary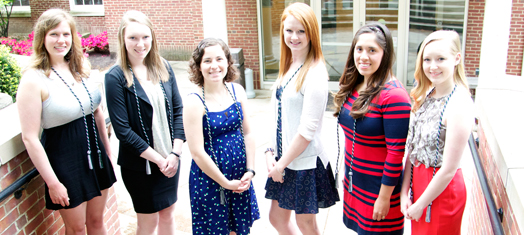 A small group of students who excelled in the Environmental Science/Studies program at Marietta College were inducted into the first class of the Kappa Alpha Omicron honorary this spring.
Christina Beltran-Revilla '13 (Pittsburgh, Pa.), Lindsay Buckwell '14 (New Britain, Conn.), Tonya Carlile '15 (Belmont, Ohio), Heather Doyle '13 (Tampa, Fla.), Elizabeth Oswalt '13 (Delaware, Ohio), Adrienne Prentice '13 (Claysville, Pa.) and Trisha Wendel '13 (Aurora, Ohio) were named the charter members of the Delta Chapter of Kappa Alpha Omicron honorary during a small pinning ceremony that took place just before Commencement.
Dr. Eric Fitch, Chair of Marietta's Environmental Science program and honorary founder of the KAO organization, presented each student with a certificate and an honor cord.
Fitch pointed out several benefits to belong to such a group.
"First of all, there is the benefit of inclusion in the only national honorary in our field as well as being a member specifically of the Delta chapter of what we believe is destined to become an organization with not only many chapters at colleges and universities across the U.S., but of the world," he said. "Members of KAO receive a copy of the Interdisciplinary Environmental Review and special consideration for attending the annual International Interdisciplinary Conference on the Environment. It is our hope that members of KAO will continue on part their undergraduate days and become full fledged member of the Interdisciplinary Environmental Association where they will be able to network with environmental professionals throughout the world and receive the type of collegial support that has previously been lacking to interdisciplinary environmental scientists and scholars."
To qualify for the honorary, students must have a sufficiently high grade point average overall and in the Environmental Science/Studies major. Students must also have demonstrated an interest in pursuing a career in or a higher education in an environmental field, as well be a strong proponent of maintaining and improving the quality of the natural environment and striving to live a sustainable lifestyle are factors as well.
"It's good knowing our degree gets the same recognition as other (colleges and universities) that have this honorary," Doyle said. "Dr. Fitch told us about this honorary in the fall when we were in capstone."
After the group was officially inducted, they voted to determine who would serve as the 2013-14 president. Carlile was elected as the honorary's first president.
"It's very exciting being a part of this first class," Tonya said. "And there's a feeling of accomplishment, too."
Fitch said her role is to assist in the development and expansion of the society.