Marietta students receive Grand Prize honor from NBS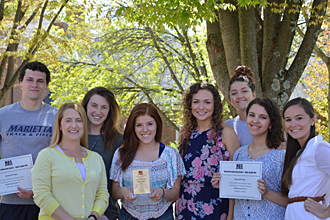 Student broadcasters from Marietta College's WCMO-TV were recently awarded a Grand Prize honor from the National Broadcasting Society.
Marietta won in the undergraduate electronic media competition for their election coverage in the fall, which included a debate between Congressman Bill Johnson and challenger Jennifer Garrison.
"We knew ahead of time that C-Span wanted our debate program to run on its network. So, the pressure was even higher than usual to produce as flawless of a program as possible," said Marilee Morrow, Associate Professor of Media Studies. "Each year, there is a lot of planning that goes into producing these debates and the other election programs we usually do like live election night coverage and election preview talk shows. This planning is crucial because a lot has to happen in just a few weeks. As as result, election season can be exhausting and seem thankless."
Marietta's students who are being recognized are: Kennedy Clyde '16 (Chagrin Falls, Ohio), Gage Freeman '15 (Cutler, Ohio), Janelle Patterson '15 (Coppell, Texas), Guershley Pierre '15 (Lithopolis, Ohio), Rosemary Raths '18 (Succasunna, N.J.), Landon Santini '17 (Vincent, Ohio), Sierra Sigman '15 (Chillicothe, Ohio), Katie Transue '16 (Egg Harbor Township, N.J.) and Brittany Waugaman '16 (Buckhannon, W.Va.).
The winning program was recorded in the Alma McDonough Auditorium and was played on WCMO-TV, WMRT-FM, UStream and C-SPAN. Morrow and Station Manager David St. Peter worked with the students that night. Kassel Music's Scott Farley provided staging and audio.
NBS-AERho has 50/60 chapters around the nation, holds a huge national convention in different major media markets every year and has about 50 categories for the undergraduate competition. Our Marietta College chapter won the Public Affairs/Interview Program category. 
"The official recognition of a job well done with this Grand Prize award has given the message to our students that their hard work was worth it," Morrow said. "They may have been tired of the volume of work while it was happening, but they've learned that a dedication to excellence does pay off. I'm thrilled these students can carry these lessons with them into the work force."