Marietta students take in-depth look at local poverty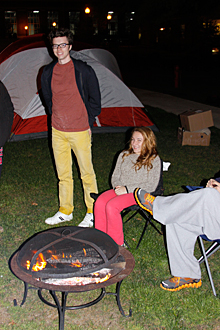 After bracing to spend just a few minutes outside to travel from building to building for classes during this winter's bitterly cold days, Marietta College students received just a taste of what it's like to suffer from the elements.
With nearly 16 percent of the people in Washington County living below the poverty level — and an untold number of those people homeless — the effects of brutally cold weather for many locals extend far beyond brief forays outdoors. For some, the outdoors is where they call "home."
This week, Marietta College students will learn about and experience aspects of poverty by participating during Hunger and Homelessness Week, which is coordinated for the first time at Marietta through Shake America, a student organization that addresses social justice issues.
"Over the years, this week has grown near and dear to many students, and a few young leaders emerged who really wanted to take the initiative to plan and operate the week themselves," said Sydney Maltese '14 (Massillon, Ohio), one of the Shake America coordinators. "The Office of Civic Engagement (OCE) is pretty busy in the spring with alternative breaks and community service day and a number of other programs, so they empowered the students of Shake America to convert the week to a 100 percent student-led project this year."
Maribeth Saleem-Tanner, Director of the Office of Civic Engagement, is pleased that Shake America has stepped in to take the lead on this week and is happy to provide support for their efforts.
"This is actually very exciting — our goal at OCE is to empower students to work in the community on issues they care about and support them to make a difference, so when a student group wants to take on an event or issue and serve as the leadership with us in a support role, that's exactly what we hope for," Saleem-Tanner said.
The week starts at noon, Monday, March 24, with a Hunger Banquet in the Great Room in Andrews Hall. Though the banquet is open to the campus community, pre-registration (in either Andrews or at the Office of Civic Engagement) and a meal swipe are required. From 5 to 7 p.m., there will be a Gilman Theme Night in the dining hall for students to learn about the week's special programming and facts about poverty.
"In the past, a large portion of campus has come out to support the events of this week," Maltese said. "A number of professors have brought their classes to volunteer at the Daily Bread Kitchen on Wednesday. I know that a few Leadership classes are promoting the events, as is the Privilege, Power, and Difference class. We're collaborating with organizations like Parkhurst and the Office of Civic Engagement to broaden our reach, so we hope the week will impact well over 100 participants total — but we encourage people from all parts of campus to come to any and all events they can support!"
On Tuesday, Shake America will host a film screening that examines poverty as well as a student-led discussion from 6 to 7:30 p.m. in the Alma McDonough Auditorium.
Students, staff and faculty are invited to take part in providing a free community lunch at the Daily Bread Kitchen on Wednesday. Work to prepare the meal, which is being served in collaboration with Parkhurst Dining, will begin at 9 a.m. at the Knights of Columbus in Harmar. Clean-up will last until about 2 p.m.
From 6 to 7 p.m., the campus community is invited to take part in the Faces of Homelessness Panel in the Great Room. The panel, comprised with people who used to be homeless, will discuss their experiences and answer questions.
On Thursday, participating students, staff and faculty will share a "last lunch" at 1 p.m. in Upper Gilman. From that point, they will fast for the next 24 hours. They will be further challenged by sleeping outside that night on the lawn between Andrews and Irvine.
The fast will end the following afternoon with a community meal for those who fasted. The "Break-fast" will take place from noon to 1 p.m. in Gilman.
"This week is so important for the MC community because it allows us to connect with the wider community and to learn deeper and more meaningful messages about the poverty and inequality in our area and around the world," Maltese said. "It also allows us to understand what it means to be advocates and activists, and to understand that awareness is the crucial precursor to societal change. My favorite part of the week is watching students experience these events and transition from passive listeners in the beginning of the week to passionate advocates by the end."