Marietta students win Peoples Bank Business Case Study competition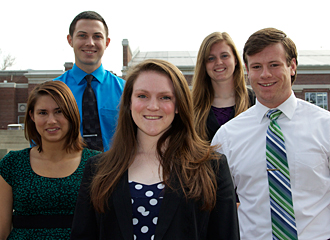 Marietta College's Rachel Hartong '14 (Mount Vernon, Ohio) is not sure how many students would give up an entire Friday and a big part of their Saturday for a case study competition.
But she was confident her fellow classmates — Brett Burns '14 (Vienna, W.Va.), Alex Martin '14 (Aurora, Colo.), Sarah Snow '13 (Hazel Green, Ala.) and Cort Thomas '13 (Strongsville, Ohio) — would make the commitment to putting together a comprehensive presentation for the inaugural Peoples Bank Undergraduate Business Case Competition, which pitted four college teams against each other.
And yes, they gave up their Friday and Saturday.
"I think what made us such a great team was our commitment to the project and team, but also our mix of expertise," Hartong said.
Marietta College's group won the inaugural competition, which included a $1,500 prize, during the second annual McDonough Leadership Conference on April 13.
"After many hours of review and preparation, the team performed at an extremely high level," said Dr. Jim Falter, Chair of the Department of Business & Economics. "The combination of their strong presentation skills and analytic abilities allowed them to successfully solve a complex finance case study." 
Each team was given one month to devise a solution for a financial services-related business case. The teams produced original work and were not allowed to consult with non-team members during the preparation of the analysis or on the day of the competition (including faculty, staff, ambassadors and fellow students).
The groups gave a 30-minute presentation that was followed by a 15-minute question-and-answer session with the judges. The teams also produced an executive summary.
"I think our presentation skills and being able to communicate our plan in a cohesive way was a big reason why we won," Hartong said.
Peoples Bank President and CEO Chuck Sulerzyski presented the students with a trophy that will rotate among the winning colleges and universities, as well as a plaque that will remain at Marietta and a check for $1,500.