Marietta team finishes third in Peoples Bank Case Competition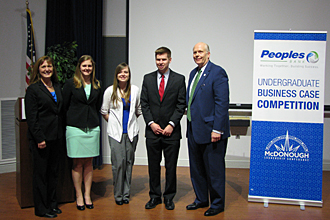 Marietta College was awarded third place in the second annual Peoples Bank Undergraduate Business Case Competition on Saturday, Feb. 1.
The Marietta College team earned $500 for their third-place finish. Team members included Rachel Hartong '14 (Mount Vernon, Ohio), George Bloomfield '14 (North Olmsted, Ohio) and Kelsey Wells '14 (Malta, Ohio). The team also included faculty adviser Holly Dexter, Instructor of Business & Economics.
First place was awarded to Marshall University ($1,500) and second place went to University of Charleston ($1,000).
Seven colleges participated: Ashland University, Marietta College, Marshall University, Muskingum University, Ohio Valley University, University of Charleston and University of Mount Union.
The competition took place Saturday morning (Feb. 1); during which each team presented its business case response to a panel of judges.
Each team consisted of four students working on their first university degree (undergraduates) and one faculty advisor. Teams were given one month to devise a solution for a fictitious financial services-related business case. The case addressed multiple geographical regions and multiple functional areas (i.e. strategic planning, finance, marketing, and so forth). Presentations were 30 minutes in length, followed by a 15-minute question-and-answer session with the judges.
"Peoples Bank is committed to investing in our communities through educational development and outreach," said Chuck Sulerzyski, Peoples Bank CEO and President. "The Case Competition is an opportunity for undergraduate students from multiple institutions to invest time and effort in competing with their peers to provide a solution to a real world business scenario. The competition allowed us to acquaint ourselves with potential candidates for employment and for students to become familiar with the area. We're looking forward to the competition growing next year." 
In addition to the competitive opportunity, participants interacted with business leaders in the financial services industry and received valuable feedback on the results of their work.  
The event is hosted by the McDonough Center at Marietta College.