Marietta team places fourth in athletic training quiz bowl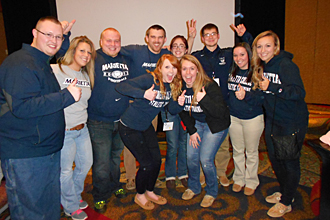 Four Marietta College students placed fourth out of 20 teams at the Southeast Athletic Trainers' Association Athletic Training Student Symposium (SEATA) Quiz Bowl on Feb. 8.
The team consisted of Carissa Emerick '16 (Marietta, Ohio), Beth Malony '14 (Audubon, N.J.), Luke Miller '14 (Portsmouth, Va.) and Todd Sabol '15 (Barberton, Ohio).
Other students attending the conference in Atlanta, Ga., were Tanner Bleakley '16 (St. Marys, W.Va.), Katie Clark '14 (Jacobsburg, Ohio), AJ Eppley '16 (Zanesville, Ohio), Jayla Graves '16 (Newark, Ohio), Madonna Lott '16 (Parkersburg, W.Va.) and Amanda Lusky '15 (Pittsburgh, Pa.).