Marietta team reaches semifinals of EFFIE Collegiate Brand Challenge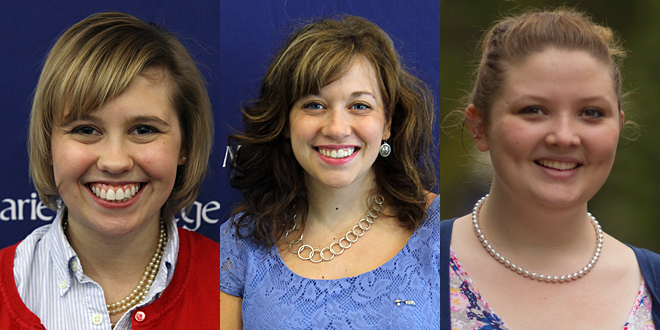 A three-student team from Instructor Lori Smith's Advertising & Public Relations class placed in the semifinals of the 2014 EFFIE Collegiate Brand Challenge.
All of the students in the class worked in three-person teams and developed an integrated marketing communication case for the client.  U by Kotex.
The team of Kelly Cecora '15 (Ravenna, Ohio), Lindsey Kudaroski '14 (Washington, Pa.) and Charlee Ottersberg '15 (Arvada, Colo.) finished in the top six and developed a campaign for U by Kotex. The other two teams worked on Mini USA.
"The Advertising and Public Relation Campaigns class provided the experience of developing an integrated advertising and public relation campaign, from creative to presentation, in a setting that mirrored the actual business environment. They presented in front of local marketing and media professionals and created a professional plans book," Smith said. "All of the teams did very well with their projects and most importantly, they learned about the process and teamwork. This class helps students realize what their strengths are and what part of the campaign process they enjoy the most. I am so proud that one of the teams progressed to the semi-finals of a prestigious national contest."
Smith said the class worked in groups or "agencies," and participated in the preparation of a campaign during the semester. Kudaroski was in charge of research, Cecora was in charge of account planning and Ottersberg was the creative manager.
After an evaluation by the judges, followed by approval from Kimberly-Clark, the six semifinalists were approved. Smith said key members of the U by Kotex brand team reviewed the submissions and then decided on two finalist teams — Liberty University and Concordia University.
For information about the College EFFIE's go to www.effie.org/award_program/partner/27.