Marietta trio ties for first at annual Tau Pi Phi case competition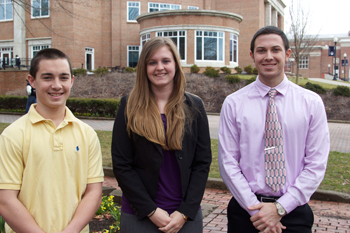 Marietta College's team of Brett Burns '15 (Vienna, W.Va.), Rachel Hartong '14 (Mount Vernon, Ohio) and Ty Jackson '15 (Woodbine, N.J.) tied for first place in the annual Tau Pi Phi national honorary case competition at Juniata College in Huntingdon, Pa.
The trio tied with the host school for top honors. Burns is majoring in Public Accounting and Finance, Hartong in Public Accounting and Jackson in Marketing and Economics.
"I think Rachel and Ty will agree that we succeeded because of our chemistry and ability to communicate with one another. Also, we did not specialize in preparation," Burns said. "By this I mean that, for example, I did not focus strictly on accounting, Rachel did not focus strictly on management, and Ty did not focus strictly on marketing. We all discussed the issues in detail, preparing ourselves to answer any question asked. I believe this can be shown by our scorecard as we earned a perfect score on the second day which was a 20-minute question and answer session."
Alexandria Martin '14 (Aurora, Colo.), Matt Napier '14 (Powell, Ohio) and Sarah Snow '13 (Hazel Green, Ala.) also represented Marietta at the competition.
"I am very pleased that one of our three-person teams tied for first place in the Tau Pi Phi case competition. Although our second team did not place, they also put forth a terrific effort," said David Mead, Associate Professor of Business and Economics. "Each of the participants represented Marietta College extremely well during the event. I believe it was a good experience for everyone. All of the B&E Department faculty are very proud of the work of these students."
Tau Pi Phi was founded in Springfield, Ohio, at Wittenberg University in 1931. The first two members of the honorary society were Wittenberg faculty members Professor Virgil H. Dassel and Dr. Daniel T. Krauss. In 1936, when Professor Dassel accepted a faculty position at Capital University in Columbus, Ohio, the Beta Chapter was formed. Since its founding, a number of chapters have been established in a variety of states from New Jersey to California. Tau Pi Phi encourages the establishment of new chapters across the nation.