Marietta wind ensemble member chosen for Honor Concert Band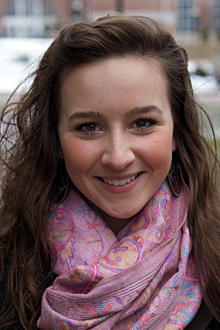 Marietta College's Angela Sipes '14 (Wexford, Pa.) has been chosen to perform in the College Band Directors National Conference's Small College Intercollegiate Honor Concert Band.
"When I heard I was chosen, the whole picture of what this meant was laid out in front of me — a national band for students from small colleges — it's like being selected for a U.S. national team. I was floored and bashful," Sipes said. "I play the clarinet for fun. This is going to be a challenge as much as it is an opportunity. The things I will learn and the talent I will see is going to leave me speechless; performing WITH these people is going to leave everyone in the audience the same."
The 85-member ensemble represents 60 small colleges and universities from across the United States. Sipes, a clarinetist, is a Biochemistry and Spanish double major with a minor in Leadership Studies.
The National Conference and Honor Concert Band will meet March 20-23, at the University of North Carolina-Greensboro.
Sipes serves as the principal clarinet in the Marietta College's Symphonic Band and Wind Ensemble. She has also been featured clarinet soloist with the Jazz Ensemble.
"Angela will have an unforgettable music experience performing with the Honors Band," said Marshall Kimball, Associate Professor and Director of Bands. "We are proud to have her represent Marietta College."
The Small College Intercollegiate Honor Concert Band (SCIB) is formed biannually to recognize the talent of instrumental students in small college and university settings. The general spirit and mission of the SCIB is to provide students the opportunity to perform high quality literature at the National Conference under a renowned conductor.
This year conductor is Dr. Craig Kirchhoff, professor of conducting and director of university bands at the University of Minnesota. Kirchhoff has appeared as guest conductor, clinician, and lecturer throughout the United States, Australia, Canada, Japan, Taiwan, Europe and Scandinavia.