MCAA announces 2014 award winners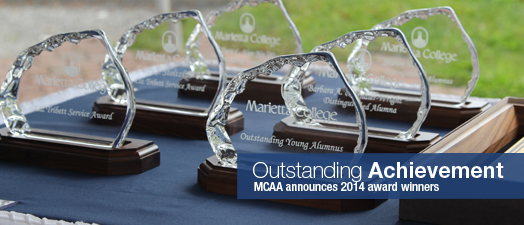 Service to others, outstanding professional achievement, and tireless support for alma mater are key themes highlighted in this year's Marietta College Alumni Association awards set to be presented Homecoming Weekend.
Whether it's a dedicated surgeon volunteering time to help disabled children, an acclaimed author and historian, or a devoted volunteer seeking to encourage others to step forward on behalf of the institution, all are featured in the special ceremony set for The Christy Mall, 10 a.m., Saturday, Oct. 11.
MCAA Community Service Award – Sydney Maltese '14 has demonstrated continued involvement as a leader and volunteer within the College and Marietta communities. Selected by the Faculty Council, Sydney has been an active, energetic, and productive contributor in all aspects of the institution's life and life of her neighbors as well.
Outstanding Young Alumnus – Daniel K. Ruggles '99 is a pediatric orthopedic surgeon working with CURE International, a non-profit, Christian-based medical organization providing life-changing surgical care to disabled children in such locations as Haiti and the Dominican Republic.
Outstanding Young Alumna – Megan Schreck Yunn '06 is the founder of Beverly's Birthdays, a non-profit organization providing birthday celebrations for at-risk and homeless children in the Pittsburgh area. The director of volunteer programs at Washington and Jefferson College, she was inspired to action while volunteering herself in an after-school help group.
Distinguished Alumnus – Richard O. Davies '59 is Distinguished History Emeritus at the University of Nevada-Reno. Described as a "writer of great versatility and talent," his body of work includes small town America, sports history, and the heritage of Nevada for which he recently won election to the University's "Nevada Writers Hall of Fame."
Distinguished Alumna – Nancy J. Cable '75 was recently appointed president of the Arthur Vining Davis Foundations, a national philanthropic organization dedicated to supporting college, secondary, and theological education as well as public television and health care. Her distinguished career has included service at Bates, Virginia, Guilford, Davidson and Denison.
MCAA Liz Tribett Service Award — Chuck Cooper '89 enjoyed an outstanding career in communications before generously volunteering his time to the College to assist in digitizing key collections of yearbooks, authored histories, and songs with the intent to make such material available to wider audiences.
Honorary Alumnus — Michael Taylor, McCoy Professor of Management Leadership, retired at the conclusion of the past academic year after more than 35 years of inspired teaching and mentoring of Marietta College students. Recognized for his contributions to the China Program, he is also one of the nation's foremost authorities on spinning wheels! 
Hall of Honor – Cosmo F. Allegretti '51, (Deceased), was a well-known actor and puppeteer best remembered for his supporting roles on the long-running Captain Kangaroo children's program. Part of the cast for more than 30 years, he brought to life such beloved characters as Mr. Moose and Bunny Rabbit; puppets now in the collection of the Smithsonian Institution.
Hall of Honor – Timothy O. Cooper '73 enjoyed a long and successful career with Arthur Anderson retiring as a partner in the accounting firm in 2000. Along with his wife, Susan, Tim has endowed three scholarships honoring faculty who impacted him as a student, has served as chair of the Board and continues his involvement as a volunteer with the Cotton Society.
Hall of Honor – Aaron J. Handleman '68 is a senior member in Eccleston & Wolf's Washington office and is chair of the firm's Board of Directors. An honored civil trial attorney, Aaron is a recognized DC Super Lawyer and Best Lawyer in America as well. He has served two terms on the Marietta College Board of Trustees and supported a variety of projects at his alma mater.
For more information about the ceremony which also includes special recognition for coaches Joe McDaniel and Jeanne Arbuckle, please visit longblueline.marietta.edu for details on Homecoming 2014, "Power of the Pio!"