McDonough Dean named to Reagan Library advisory council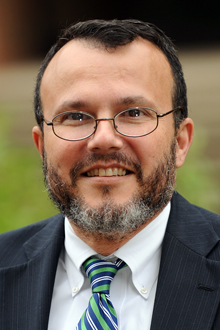 Marietta College's Dr. Gama Perruci, Dean of the McDonough Center for Leadership & Business, has accepted an appointment to serve on the Ronald Reagan Presidential Library's Academic Advisory Council.
"I was very honored to be invited to join this advisory council. I think it will be a wonderful opportunity to help shape the way we study leadership in the context of the presidency," Perruci said. "The Reagan Presidential Library is developing exciting educational initiatives to promote leadership development at the collegiate level. The leadership experiences of U.S. presidents can provide wonderful lessons for aspiring leaders."
The purpose of the council is to advise on the creation of an innovative for-credit university program with a goal of promoting effective leadership through the lens of the American presidency. The program will recruit outstanding university student leaders from across the country and emphasize leadership development through study of President Reagan and the many exemplary leaders who have served as President of the United States.
Each member of the council is expected to attend two meetings during the year — one in Simi Valley, California, and another in Washington, D.C. They will also participate in and contribute to future Reagan Institute programming, and be available for periodic consultations.
Perruci has been Dean of McDonough since 2003. He recently served as Chair of the Board of Directors of the International Leadership Association (ILA), the premier professional organization that brings together leadership scholars and practitioners. Perruci also works as a consultant for The New York Times, focusing on the newspaper's educational programming for leadership students (nytimesinleadership.com). He is the co-author of Understanding Leadership: An Arts and Humanities Perspective (Routledge, 2015). Aside from these responsibilities, he also serves as a session facilitator for the Management and Leadership Development Program (MLDP) and the Rockefeller Global Leadership Program (RGLP) at Dartmouth College's Rockefeller Center for Public Policy.