McDonough to host 2013 Great Decision Series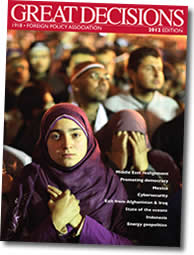 Almost daily you can read or hear about issues involving China, Iran and Egypt.
Now, thanks to the 2013 Great Decisions Series you spend six weeks on Marietta College's campus discussing these topics and many more.
The series, which is being sponsored by the McDonough Center for Leadership and Business for the eighth consecutive year, is part of a national program organized by the Foreign Policy Association (FPA) with headquarters in New York.
This year's Great Decisions Series runs 2-4 p.m. Sundays from Jan. 20 to Feb. 24. Designed to bring understanding of foreign relations issues to the Marietta community, the Series addresses a different topic each week. This year's Series features sessions on Threat Assessment (Jan. 20), China in Africa (Jan. 27), Iran (Feb. 3), Egypt (Feb. 10), Future of the Euro (Feb. 17) and Intervention (Feb. 24).
"We provide an opportunity to engage the community in meaningful discussions about critical issues that affect the future of the United States," said Dr. Gama Perruci, Dean of McDonough. "The participants are engaged and draw from their personal experiences and ask tough questions that the experts and participants can wrestle with."
Each Sunday afternoon, a Marietta faculty member will present the day's topic and agenda. Participants will receive an opinion ballot to express their thought on the matter at hand. These ballots are sent to the FPA, a national non-profit organization committed to helping America learn more about the world. The FPA then compiles a report to the White House and Congress, relaying pubic opinion to policy makers.
The registration deadline for the 2013 Great Decisions Series is Dec. 17. Registration is $25 and covers the cost of the Great Decisions Briefing Book. Enrollment is limited. To register, stop by the McDonough Center office or go to mcdonough.marietta.edu to obtain a registration form.