McDonough to host sixth annual Leadership Conference April 10-11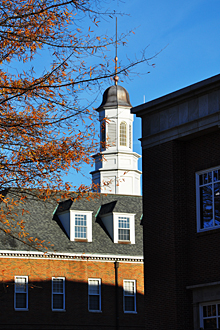 Marietta College will be host to a weekend of presentations, workshops, dialogues and more about the field of leadership as it relates to diverse topics on April 10-11.
More than 250 people from more than 15 schools will come to Marietta College for the 2015 McDonough Leadership Conference, which is in its sixth year. The theme for this year's conference is: "Concrete Leadership: Bridging the Divide Between Theory and Practice."
"Each year, the conference brings more and more inspiring leaders to campus. This year's schedule is full of diverse presentations that appeal to many areas of study," said Taylor Hanigosky '16 (Youngstown, Ohio), this year's conference chair.
The keynote speakers for this year's conference are: Maka Meshveliani, senior program officer at the National Democratic Institute (NDI) Georgia Office and 2015 Andi Parhamovich Fellow; and Michael Templeman '00, Director, New Initiatives — O'Neill Institute for National and Global Health Law at Georgetown University Law Center.
The conference also features sessions from guest speakers including Kathleen Reddy-Smith '71, a retired U.S. diplomat; Gerard ElChaar, senior vice president and division president of Coldwater Creek; and Michael Milone, a retired executive vice president of the H.J. Heinz Company and current member of Marietta's Board of Trustees.
Additionally, students and faculty from across the country and from Marietta College will present their research through leader dialogue sessions, featured graduate presentations, master classes and undergraduate student presentations.  
Schools that will have representatives present include: Slippery Rock University, Wilkes University, Saint Vincent College, West Virginia University, Western Kentucky University, Christopher Newport University, University of Mount Union, Ohio University and Otterbein University.
"I'm extremely excited to see Marietta College students engaging throughout the conference and taking full advantage of all the opportunities the weekend has to offer," Hanigosky said.
Those interested in attending sessions are encouraged to visit mcdonough.marietta.edu and follow the links to register and view a preliminary program. Spaces for some sessions are limited to a first-come, first-served basis.