McDonough hosts annual Leadership Conference April 11-12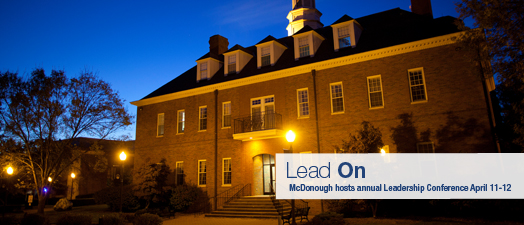 As the McDonough Leadership Conference continues to grow each year, what makes it even more impressive is how the event is organized and presented by Marietta College students.
One of those student leaders is Hayley Montgomery '15 (New Albany, Ohio), who has been working closely with Dr. Gama Perruci, Dean of McDonough, Christy Hockenberry, Administrative Coordinator, and Taylor Hanigosky '16, Assistant Conference Chair, since the fall.
"I am so very excited for the 2014 McDonough Leadership Conference. This year, we have focused on bringing in many new types of presentations that cover a wide range of topics that should be very interesting for Marietta College students, as well as students and faculty from universities across the nation," says Montgomery, who is majoring in Education/Intervention Specialist. "Because leadership is such an expansive topic that can be found in any field of study, we tried to create a conference that shows many aspects of it in many different areas, so that there is truly something for everyone. I greatly encourage all Marietta College students to attend so they can support the program and their peers, but also because this is a conference full of valuable information that is just a quick walk down the Mall."
The Leadership Conference will be held in the McDonough Center. The event begins with a keynote lunch and lecture, which features William B. Cyr, President and CEO of Sunny Delight Beverages Co. Cyr will talk about "Take More Risks: Caution is Over-Rated."
"The conference is designed to give everyone an opportunity to learn new concepts about leadership, hear from accomplished leaders, and interact with others interested in leadership," Perruci says. "We offer a national forum for undergraduate leadership students to share their research and leadership insights. We are one of the few national conferences dedicated mainly to undergraduate research in Leadership Studies."
Perruci says Cyr's presentation is part of the inaugural World Pac Paper Leadership Lecture Series. This is a new campus initiative spearheaded by Edgar Smith, CEO, World Pac Paper, LLC, and a member of the College's Board of Trustee.
"I really like his topic: 'Take More Risks: Caution Is Over-Rated.' Because of the generous corporate support we receive, we are able to offer this conference to the general public free of charge," Perruci says. "Every year, the conference grows, and we are able to offer more events under the conference. Last year, we had six institutions (other than Marietta College) represented at the conference. This year, the number has grown to 10."
Also on the schedule is a "Leader Dialogue" session from 4-4:50 p.m. on April 11. The program features Karl Johnson '79, Vice President Business Development and Operations at PetroNeft Resources, and Don Ritter '81, President and CEO of Endurance Resources, LLC.
On Saturday, there are two roundtable discussions at 10 a.m. — "The Millennials and Current Events" and "The Use of The New York Times in the Classroom." At 11 a.m. is a Leadership Master Class with Michael Harvey, Chair of the Department of Business Management at Washington College.
The keynote lunch speaker on Saturday is Margarita Alonzo, the 2014 Andi Parhamovich Fellow, the National Democratic Institute in Washington, D.C. Seth Meinzen '04, entrepreneur and co-author of The Organic Entrepreneur Economy, will speak during the Leader Dialogue at 4 p.m. Saturday.
The conference closes with Beatrice Selotlegeng, Director of Cardinal Health Junior Executive Business Program at Ohio University's College of Business, delivers a keynote address. Selotlegeng has extensive experience in Aviation Management culminating in her appointment as the Acting Chief Executive of Air Botswana, the national airline of the Republic of Botswana.
Lead sponsors for the conference are The Scott Theodore Leadership Conference Endowment, World Pac Paper, LLC, and the McDonough Corporation. Key sponsors are The New York Times, Peoples Bank, Endurance Resources and Eagle Manufacturing, while sponsors are The Hampton Inn/Microtel Inn & Suites and Newfield.