McDonough Leadership Conference set for April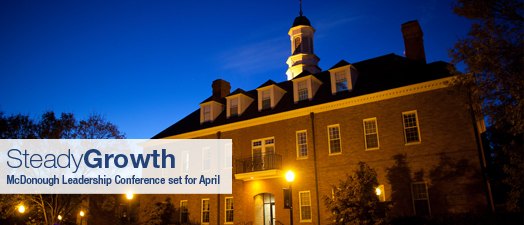 As a freshman, Taylor Landrie '13 (Fredericksburg, Va.) was thrilled to help organize a campus-based conference for the McDonough Leadership Program.
"I didn't know what to expect and it was a lot of work, but I also learned a lot from that experience," she says. "Dr. (Gama) Perruci knew I had experience organizing a conference so he asked me to organize the McDonough Leadership Conference this year."
The second annual Leadership conference is set for April 12–13. The campus community is invited to attend the conference and can register online. Landrie and fellow Leadership students coordinated their efforts with the McDonough staff to expand the number of participants and themes of the conference.
"As soon as the fall semester started, we began planning," Landrie says. "First, we established the themes — which cover a pretty broad spectrum. Then, we sent out a call to a variety of other schools with leadership programs, asking for proposals for presentations within those themes. It was a challenging process selecting the proposals, but I think we've chosen great ones."
This year, the themes for the conference are international business leadership, women in leadership, leadership in law and policy, leadership in health care, and teacher leadership. More than 100 undergraduate participants will attend the conference this year, showcasing through posters and presentations of their leadership research projects, literature review, and their reflections on a variety of field experiences, such as studying abroad, service projects and internships and honors theses.
"We are very excited with the scheduled activities during this conference," says Dr. Gama Perruci, interim Provost and Dean of McDonough. "Aside from the high quality of our speakers, we will also have more participating institutions."
In addition to organizing the event, Landrie has also been busy preparing to give multiple presentations on the second day of the conference.
"It's a lot of work but being involved in so many different things — like planning conferences, studying abroad, taking full course loads and doing research projects — it's all helped me develop better time management skills. I stay busy, which I like, but I'm not overwhelmed, which is good," Landrie says. "I enjoy the process of getting to the finished product."
The McDonough Leadership Program focuses building students' leadership knowledge, putting that knowledge into practice, and then reflecting on what was learned during the process. 
"Our students play a major role in organizing this event," Perruci says. "This becomes an excellent opportunity for them to put into practice the skills and concepts that we discuss in class. They also bring enthusiasm to the conference. They serve as wonderful ambassadors to our leadership program. I am always impressed with the energy and passion that they add to making this event a success."
The lead sponsor for the conference this year is the Theodore Leadership Conference Endowment; key sponsors are the McDonough Corporation and Peoples Bank; and the additional sponsor is Christy & Associates.
The three keynote speakers for the conference include Scott Theodore '86, Hodan Ahmed and Shawn Selby '92.
Theodore will offer an interesting take on business leadership during his presentation, "Leaders Growing Leaders," The managing partner for Northwestern Mutual Life Insurance will speak at the Friday, April 12, luncheon in the Great Room in Andrews Hall, where all three keynote speakers will present.
Ahmed, who is the Senior Program Officer with the National Democratic Institute, will present during Saturday's luncheon. Her discussion, "Women's Political Participation in Somalia's Weak Institutional Context," addresses the Women in Leadership theme. She is also the 2013 NDI Andi Parhamovich '00 Fellow.
Selby, who is the news editor for The Washington Post's weekly publication, Capital Business, will be the closing keynote speaker during Saturday's dinner. His topic will address leadership in law and policy and the effects of media on such types of leadership.