McDonough Scholar chosen for Jepson Cambridge Program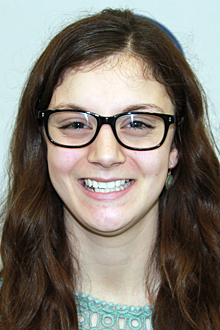 Marietta College's Samantha Welch '18 (Ennis, Montana) will join a distinguished group of McDonough Scholars who have participated in the University of Richmond's Jepson Cambridge Program.
Marietta has been sending students to the five-week summer program to study at Emmanuel College, Cambridge University, for nearly a decade.
"Sam is a very strong student who will take full advantage of this incredible opportunity," said Dr. Gama Perruci, Dean of McDonough. "She truly represents our commitment to academic excellence, and I believe that she will represent us well in this challenging setting. We are honored that the Jepson Cambridge Program reserves a spot for a McDonough Scholar every year. We have sent several students over the years to this program, and they always perform well. I think our rigorous curriculum prepares them well for this wonderful program." 
Welch, who is majoring in Political Science, became interested in the program after her friend — Maria Stickrath '17 (Zanesville, Ohio) — attended last summer.
"We are both interested in attending law school after college, and since she enjoyed the program so much, I decided to apply myself," Welch said. "I think it sounds like a fantastic opportunity."
Students participate in classes, lectures and out-of-town trips to examine law and leadership in an international context and to experience the rich intellectual and cultural history of England. Meeting an international political leader, analyzing the leadership style of an international corporation and boating along the River Cam are all experiences students can have during the program.
"I am planning on attending law school after Marietta. I think this program will be very beneficial, as I will be attending Cambridge with other law school students," Welch said. "I will get insight on how law school classes are as well as how the course load is."
The curriculum changes every summer and courses are taught by Cambridge faculty. At least two courses have been determined — Legal History and Comparative Public Law of U.S. and U.K.
"I'm expecting the classes to be challenging, but I'm expecting to be able to gain a lot from the program," Welch said. "Not only that, I'm excited to be able to experience England for the first time."
Welch, who graduated from Ennis High School, is confident she is ready for the challenge that awaits.
"I think Marietta College has done a great job preparing me for this opportunity. My teachers have challenged me in classes since my freshman year, and this will definitely help me while I am at Cambridge," she said. "Furthermore, McDonough has given me the critical thinking skills necessary to succeed not only at Cambridge, but later while I am at law school as well."
McDonough has also awarded Welch a $1,500 grant to be used toward the costs associated with the summer program.