McDonough selects 8 students to serve as N.Y. Times Leadership Fellows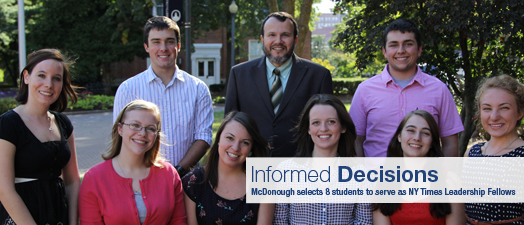 The concept is simple: better-informed leaders make better decisions.
This is the premise behind The New York Times' Leadership Fellows Program, which began during the 2012-13 academic year. One year later and Marietta College's McDonough Center for Leadership and Business is one of only a handful of institutions around the U.S. to be part of it.
"The Leadership Fellows will play a key role in promoting the debate of current issues on campus," says Dr. Gama Perruci, Dean of McDonough. "They will work with me to organize events that will bring together students interested in discussing topics of national/global prominence. Leadership Fellows also will advise the McDonough faculty/staff on the use of The New York Times in the McDonough Leadership Program."
Through a competitive process, McDonough selected eight students to serve as Fellows in 2013-14. The group has been meeting regularly, as well as inviting others from across campus to share ideas.
"As the very first Leadership Fellows to partner with The New York Times on campus, we are all full of excitement to commence hosting events and creating discourse about global and domestic news," says Alina Kielbasa '15 (Austintown, Ohio), one of eight Fellows. "My hope for this program is that our eagerness to try innovative ways of extending news to campus will continue on with the fellows to follow in upcoming years. I want this to be a program that transcends my time here and collaborates with other organizations that have a purpose similar to ours."
The other students selected to represent Marietta are Megan Bache '17 (Westland, Mich.), Erin McNulty '16 (Little Hocking, Ohio), Sydney Maltese '14 (Massillon, Ohio), Gene Neill '16 (Vincent, Ohio), Monica Short '15 (Woodstock, Md.), Jenna Skoglund '15 (Westerville, Ohio) and Blake Szkoda '16 (East Hampton, Conn.).
Starting in the fall of 2012, The New York Times launched a pilot Leadership Fellows Program at Northwestern University's Center for Leadership. The success of this pilot led the newspaper to seek out other institutions interested in the program for this fall.
The students have yet to announce any programming, but the team is confident it will be a successful year. 
"The New York Times Fellows have great projects in the works and they have the potential to improve our campus in ways that we cannot yet imagine," Neill says. "From distributing information to programming, we are really trying to get the word out to students on campus in a fun and educational way."