Media Studies professor authors chapter in new pop culture book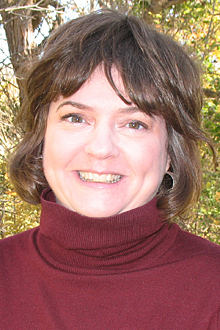 In the broad spectrum of popular culture today, everyone is a fan of something. Whether it's the next reboot of a beloved '80s franchise, the up-and-coming folk superstar or the newest fantasy novel with a boy wizard and misunderstood vampire duo, there is something for everyone to love.
Fans are often fluid and ever changing. However, too few scholars have accepted the challenge of focusing on the impact of gender in media consumption, leading to a limited portrait of what male and female fans look for.
"Contemporary advertising campaigns continue to reflect very specific gender norms," said Media Studies Assistant Professor Gigi McNamara.
A chapter written by McNamara is included in the new book Fan Girls and the Media: Creating Characters, Consuming Culture.
Assembled by Adrienne Trier-Bieniek, a Professor of Sociology at Valencia College in Orlando, Florida, the book is a collection of essays that demonstrate the gendered aspect of fandom and explore the ways different forms of media challenge stereotypical ideals of how culture is consumed.
"Dr. McNamara's work looks at the intersection of feminism and consumerism, through the lens of media," said Dr. Joan Price, Chair of Media Studies. "This focus offers a highly relevant perspective to media studies students and informs the public relations and journalism courses that she teaches." 
Within her chapter, Coveting Sarah Jessica Parker: When Postfeminism Meets Commodity Feminism, McNamara examines how feminism has become commodified via the actress Sarah Jessica Parker. For her research, McNamara analyzed the recent advertising campaign for Parker's fragrance, Covet. As a result of her studies, McNamara contends that advertising and television have attempted to grasp hold of ideals set forth in the feminist movement. Using these ideals, advertisers connect images of female empowerment with consumption of products. This tactic, she asserts, has resulted in advertising preference for commodity feminism.
"In this book chapter, I explore ways in which an advertising campaign for a celebrity fragrance advances notions about commodity feminism," McNamara said. "In short, this campaign conflates empowerment with purchasing. Women in particular have been 'resold' this particular brand of faux empowerment."
Other contributions found within the book examine issues including gendered stereotypes in the Star Trek and Twilight franchises, to gender roles in Tyler Perry films and The Real Housewives of Atlanta reality series. Additional essays look at the female comedy fan community, the appeal of avenging-woman characters written by men, and the use of social media by women in the video-game culture. 
The collection describes how gender is present in fandom, thus demonstrating the need to combat the marginalization of female identities in various cultural outlets. Fan Girls and the Media is geared toward readers with an interest in the phenomenon of fandoms as well as students and scholars of sociology, media and gender studies.