Memorial Health System, Peoples Bank and College collaborate to impact hunger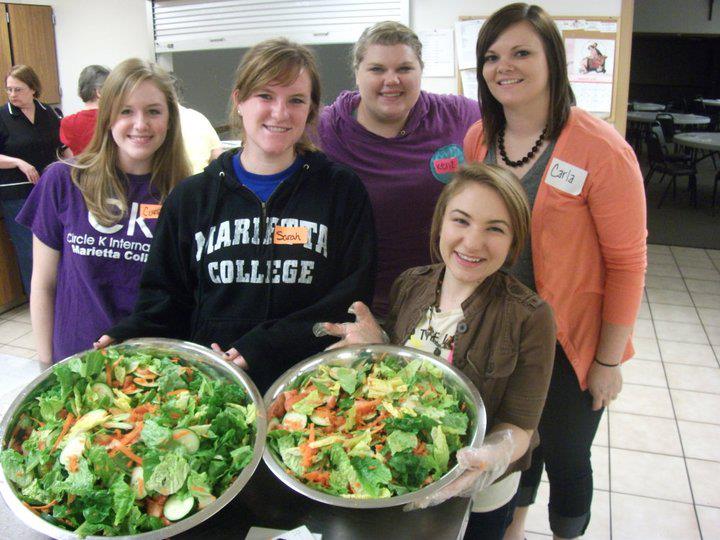 Marietta Memorial Hospital, Peoples Bank and Marietta College have partnered to create a community-based, collaborative plan to raise awareness and help eliminate hunger in our region. The partnership will bring resources and support to our community as we strive to collaborate with agencies and organizations to lessen and end hunger in our county.
The first action taken by the group is to fund and implement a pilot program for second graders in Marietta City Schools. The program, Food Is Elementary, is a national, evidence-based program developed by Dr. Antonia Demas of the Food Studies Institute to teach children basic nutrition and cooking skills. It teaches the USDA MyPlate model, but focuses on teaching kids about the foods they don't get enough of: fruits, vegetables, whole grains, and legumes. Food is Elementary is fun, interactive, and educational. Kids learn measuring, food preparation, and knife skills.
"When kids play an active role in preparation, they are more willing to try new, healthy foods" says Michelle Corrigan of Live Healthy Appalachia. Live Healthy Appalachia, a non-profit based in Athens, Ohio, has been teaching the Food is Elementary program for two years and is now assisting Marietta with implementation.
"Peoples Bank is pleased to be part of this important project," said Chuck Sulerzyski, President & CEO of Peoples Bank, "We are committed to using our resources to improve the quality of life in our communities. This partnership and the Food Is Elementary program is one way to improve the health of our children."
The Food Is Elementary program will start the week of Jan. 14 in 10 second grade classrooms and take place over a 12-week period. Ten Marietta College students have been trained as Food Educators and will assist educators in implementing the program with students. Sam Thomas '13 (Lorain, Ohio), has been hired to coordinate the program that includes purchasing and organizing food and other supplies, managing volunteers, communicating with the schools and teachers, and evaluating the program. If the pilot is successful, the group hopes to expand and offer to classrooms throughout the county.
Dr. Joseph Bruno, Marietta College President, agrees. "Marietta College is happy to support this important initiative in our community. The ability to provide students teaching and leadership learning activities outside of the classroom and care for neighbors is a win-win situation."
Hunger among our youngest Ohioans is growing and will dramatically affect already-rising health care costs, educational achievement, future worker productivity and the ability of our State and nation to compete in the global economy. According to Ohio Food Banks, 731,040 of Ohio children struggle with food insecurity.
"We are at a crossroads in the United States where hunger exists side-by-side with a national obesity epidemic, especially among children," said Memorial Health System president & CEO Scott Cantley. "There has never been a greater need to help individuals and families learn about accessing and choosing healthful food options. As the community based health system in our region, we know our role in providing resources and change is important. Studies show that children who eat well learn at a higher level."
"I am really excited to start the Food is Elementary Program at Phillips," said Katie Starr, a teacher at Phillips Elementary in Marietta. "Over the past two summers I have worked for AmeriCorps with their Summer Food Program and I have seen first-hand how important understanding good health can be for our community. The best way to teach the children in our community to be healthy is to start from a young age. These are lessons and information that can help them become healthy for the rest of their lives. All of our students are excited and I can't wait to see what they learn over the next couple of months."
Hunger & Health Data
More than 607,000 households — 13.3 percent — struggled to feed themselves and their families in 2009.
More than 30 percent of children and adolescents in Ohio are overweight or obese, according to the Ohio Department of Health, and more than 730,000 children are at risk of hunger.
700,000 children are enrolled in the free and reduced lunch program according to Ohio Department of Education.
Hunger and poor nutrition have an impact on children. This can include iron deficiency, fatigue, headaches, frequent colds and other illnesses, obesity. If this continues into adulthood, this can lead to issues such as heart attack and stroke.
Leading causes of death in Washington County include cancer and heart disease with the highest cancer site incidents and mortality rates being lung, breast, and prostate.
Washington County residents are more likely to have had a heart attack, heart diseases or a stroke than the state average and less than 50% recognize symptoms of heart attack and stroke.
JENNIFER OFFENBERGER