In Memoriam: Dr. Sherrill Cleland (1924-2015)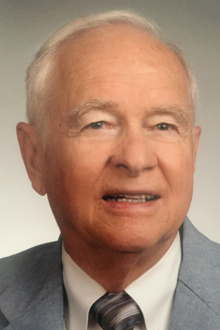 Dear Marietta College family,
It is with much sadness that I write to you today to inform you that Sherrill Cleland, who served as Marietta College's 14th President from 1973-89, passed away yesterday (Oct. 26, 2015) at the age of 91.
Memorial services are being planned for the Washington, D.C., area, as well as Marietta (dates to come soon). In lieu of flowers, family members are asking that memorial donations be made to the "Sherrill and Diana Drake Cleland Leadership Award for Experiential Learning Fund," at Marietta College.
In retirement, Dr. Cleland served as Chairman of the Student Loan Funding Corp. and on the Board of Directors for KnowledgeWorks, Tuition Exchange and AMIDEAST.
I did not get an opportunity to meet Dr. Cleland, but I understand that he was beloved by students and the community during his 16 years of leadership. His first wife, Betty, was also a cherished member of the campus community, and, when she lost her battle with cancer, the Marietta community mourned with President Cleland. The College honored her by naming a room in the McDonough Center after her.
Early on in his time at Marietta, Dr. Cleland developed the idea of the Master of Arts in Liberal Learning, along with special courses aimed at teaching freshmen about successful approaches to transitioning to college. About halfway through his 16 years at Marietta, the College successfully completed Campaign 150 — a five-year, $12 million fund drive. Also during his tenure, the College received a $5.5 million gift from Alma McDonough, the widow of the late Bernard P. McDonough. This led the way to the creation of the McDonough Center for Leadership & Business.
Dr. Sherrill Cleland's impact on Marietta College is still evident today, and we mourn his passing.
Sincerely,
President Joseph W. Bruno