In Memoriam: Herschel G. Grose (1921-2012)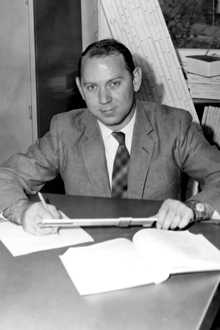 Before President William Bay Irvine officially offered Dr. Herschel G. Grose a position on Marietta College's chemistry faculty in 1953, he wanted to check a few references.
What he received from E.E. Campaigne, Associate Professor of Chemistry at Indiana University, likely sold him on his choice.
In a letter to Irvine, Campaigne wrote about Grose, "As an assistant in chemistry here at Indiana, he was rated as our best student assistant, and assisted in various courses outside of his own specialty. He has majored in organic chemistry, but was in demand by the physical chemistry. All the staff members here at Indiana were anxious to see him go into teaching, and were quite disappointed when he was unable to resist the high salary offers of industry at the time of his graduation."
Grose, who was working as a research chemist with E.I. DuPont de Nemours & Co., was now ready to get back to teaching and from 1953 until 1985 he was on the Marietta College faculty.
On Sunday, Dec. 30, 2012, the 91-year-old passed away at Aultman Hospital in Canton, Ohio.
At the time of his retirement, President Sherrill Cleland wrote a personal note to Grose thanking him for his service to Marietta College. In it he said, "I personally appreciate the warmth that you have always exhibited. I appreciate the way you have been able to motivate students to seek their very best efforts, and I appreciate the important example you have always set as to what epitomizes a find academic colleague."
In 1968, Grose received a grant from the National Science Foundation that allowed him to attend the Conference on the History and Philosophy of Science and Mathematics in Washington, D.C., for a good portion of the summer break.
Grose was also a strident proponent for the strength of the Chemistry Department. When he expressed an interest to reapply for accreditation from the American Chemical Society in 1961, he was not shy about voicing why Marietta should be accredited. One of his arguments centered on the five faculty members in the department would all have Ph.Ds.
"That will make us 100 percent. No one can say that this is not enough," he wrote. "I might add that at no time have we found it a disadvantage to be among those not included on the list. We have not had a single graduate school or prospective employer to inform us that he did not want our product because of the fact that we are not an approved school. Many schools prefer to remain outside the sphere of the American Chemical Society."
Due to his work, as well as many others in the department, the ACS does recognize Marietta as an accredited program.
After graduating from Indiana Central College in 1942, he joined the U.S. Navy during World War II, received training at Princeton University, and attended radar school at MIT where he met Charlotte Wilson while she was serving in the U.S. Marine Corps. They were married on April 14, 1944. During the war, Lt. Grose served 18 months in the Pacific Theater as radar officer aboard the USS Tinosa, a Gato Class Submarine.
Following his retirement, Grose relocated to the Canton area and at the age of 84, he taught two more years at Walsh University.
He was born in Scircleville, Ind. on Feb. 1, 1921, to the late Herschel Kenneth and Anna Myrtle (Heaton) Grose. Grose was preceded in death by his wife Charlotte of 46 years on Sept. 15, 1990, and son-in-law Peter Kelley on Jan. 23, 2010. He is survived by his children: Suzanne (Carl) Glendenning of Kingsport, Tenn., Steven (Carol) Grose of Hartville, Ohio, David (Deborah) Grose of San Antonio, Texas, Sandra Kelley of South Jordan, Utah, Gregory (Maryanne) Grose of Marietta, Bonnie (David) Eigel of North Canton, Ohio; 13 grandchildren and 11 great-grandchildren; sister, Betty Eberhardt of Indiana; other relatives and friends.