In Memoriam: Jack Prince (1920-2013)

The phone call that drew Sam Badgley '83 from his home Thursday evening was one he dreaded answering but felt honored to receive.
"He was my best friend and he had all the trust I had in the world," Badgley says.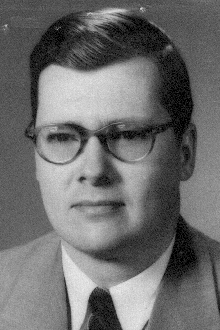 Heartland of Marietta, a skilled nursing and rehabilitation center, informed Badgley that his friend and neighbor, Dr. Jack E. Prince, was not going to survive much longer. Late Thursday, March 14, the Emeritus Professor of Economics, Management and Accounting died after a months-long battle with pneumonia. He was 92.
"We had a deal," Badgley said. "Jack had asked me to be the executor of his estate. He wanted to be able to live in his home for as long as he could. But he was a man who never wanted help. He wanted to do things for himself. The deal was, he could stay in his home for as long as it was possible as long as he let me take care of things like mowing his grass and taking care of his home."
The two met in the mid-1980s, after Badgley graduated from Marietta College with an accounting degree.
"I wasn't fortunate enough to have a class with Jack or know him while I was a student, but, when I married and graduated, I was fortunate enough to move basically next door to him and Betty."
The two often sat on Prince's back porch to talk about their families as well as business.
Charles "Charlie" Prince, the eldest of two sons that Jack and Betty Prince had, grew up surrounded by students, advisees and alumni who often had dinner with his family.
"The College was never really a job to him. It was a passion," Charlie Prince said. "My dad spent an awful lot of time giving advice to people who needed it. As I've grown older, I realize the value of his words. And another thing I can't stress enough, my dad always had time for people. He was never in a hurry to brush someone off so he could get his work done. If his students wanted to meet him at our house, he was there. If they preferred meeting him in his office, he was there."
Charlie and his brother, Richard, spent many evenings with students and advisees at their Williamstown, W.Va., home.
"I don't think we ever sat in on a class of his but I do know that our first jobs were helping him put out the bulletins for the Evening School," Charlie Prince said. "At first, we only handled the sorting for the bulk mail. But once we gained his confidence, we were promoted to label placement."
Dr. Prince was born in Columbus, Ohio, on June 15, 1920, to parents Erman and Ilo (Zirkle) Prince. Before earning his undergraduate and graduate degrees from The Ohio State University, he served for three years in the United States Army during World War II. From February 1943 to January 1946, he served in the 26th Infantry Division, 180th Field Artillery Battalion. He was an ETO First Sergeant who earned the Bronze Star and five Battle Stars.
He resumed his studies after the war, serving as a teaching assistant at Ohio State while he was pursuing his master's degree. In 1949, he taught at Millsaps College in Jackson, Miss., and later served as an Assistant Professor of Economics at Ohio Wesleyan University.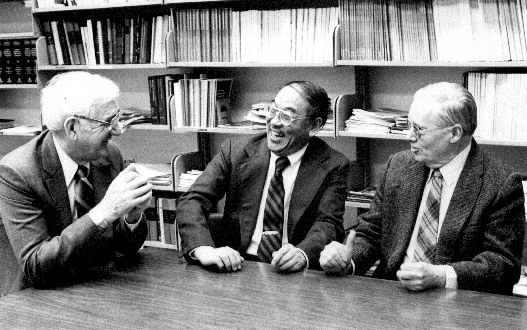 In the fall of 1954, he began teaching in the Economics, Management and Accounting Department at Marietta College as an assistant professor. The following year, he was asked to serve as the Director of the Evening School at Marietta College, an adult education program that had existed at the College since 1950.
In 1962, Marietta set a record high enrollment (to date) of 1,726 students, with some credit being given to the Evening School, which had jumped from 315 students to 350. The more popular courses were general chemistry, freshman English, electronics and college algebra.
"These are not fun courses," Prince said during an interview for The Marietta Times. "Our students are here to learn, to improve themselves, and we try to design our program accordingly."
Prince was one of the "Big Three" professors in the Department of Economics, Management and Accounting — his peers were the late Professors Burt Glaze (1966-87) and Wen-Yu "Frank" Cheng (1948-86).
"Jack was the type of professor that students dream about," says Emeritus Professor Ed Osborne. "His office door was always open to students, and they visited frequently. Jack had comfortable chairs that encouraged students to linger awhile. He loved chatting with students and learning about their hopes and dreams, giving useful advice along the way. Jack also believed that not all learning was from textbooks."
He often used The Wall Street Journal in his classes so students could understand the language of business and get a glimpse of the reality of it.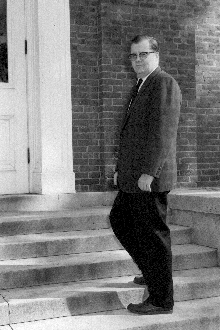 President Sherrill Cleland sent Dr. Prince a letter in 1985, shortly after the professor officially retired.
"I want to thank you personally, on behalf of your colleagues, and especially on behalf of that host of students who learned and grew and had their lives enriched because of your impact on their lives both in and out of the classroom, for your years of service to Marietta College. The campus is still your campus, the library is still your library, lectures, concerts, plays, athletic events, faculty forums, convocations, etc., will be enriched by your presence."
As news of Dr. Prince's death spread in the Marietta College community, many expressed pride that someone so talented and caring was connected so deeply to the College.
"In my short time at Marietta College, it has become obvious to me that Dr. Prince had a profound impact upon his students, many of whom remained lifelong friends," said Hub Burton, interim Vice President for Advancement. "During reunions and Homecoming, it was not unusual for returning alumni to take time out from on-campus activities to go and visit with Jack. Without exception, they returned re-energized about their alma mater and pleased to have spent time with a special mentor and friend who rendered their time here so very memorable."
As plans for the new Legacy Library began to take shape in 2007, one of Dr. Prince's former students, Eric Dobkin '64, and his wife, Barbara Berman Dobkin '65, made a generous donation to honor Jack and memorialize his late wife, Betty, who died in 2006. They provided the funding to establish the Dr. Jack E. and Betty O. Prince Forum in the library.
"Dad wasn't a flashy person. He didn't drive a flashy car. Material things weren't what mattered to him. It affected him very much. He was very deeply moved by what they did," Charlie Prince said. "Eric had been generous before, when the Jack Prince Scholarship was established. Eric had a very successful career, like many of Dad's students and advisees — and Dad was very proud of their successes."
Charlie Prince knew the Dobkins when they were still students at Marietta. He got to know them, like most of his father's lifelong friends, around the dinner table.
"To have your parents' names on a building … it made the financial sacrifices Dad had made worth it. Teaching is what he wanted to do and he had no regrets. The friendships and long-term relationships that he received was worth more than any paycheck he could ever had."
Eric Dobkin was saddened to learn of Jack Prince's death, but was heartened to know how fulfilled his life was.
"He's an extraordinary man and he's been an extraordinary mentor and friend," Eric said. "He's had a profound effect on the lives of hundreds and hundreds of students and people. Jack had a wonderful, full life."
As per Jack Prince's wishes, he will be cremated. A memorial service will be planned at a later date. His family asks that any donations be made to the Jack Prince Academic Merit Scholarship, c/o Linda Stroh at Marietta College, 215 Fifth St., Marietta, Ohio 45750.