Mini-grants awarded for College theme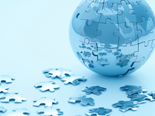 From AIDS Awareness to pairing up students of different cultural backgrounds to do community service, Marietta College's 2012-13 theme of Leadership & Social Justice is off to a good start.
While the College has organized a few programs of its own to celebrate the theme, including an evening with Wes Moore, who authored this year's common reading The Other Wes Moore, at 7:30 p.m., Tuesday, Nov. 13, in the Alma McDonough Auditorium. His appearance is part of the Esbenshade Series.
Recently, the College awarded seven organizations on campus with mini-grants to help support programming that fit under the umbrella of this year's theme.
Tiesha Anderson '14 (Germantown, Md.) is president of the Charles Sumner Harrison Organization and they were awarded a $750 grant to promote an AIDS Awareness Week from Nov. 26-Dec. 1.
"As an organization, we are definitely excited about the difference we can make in our community through the AIDS Awareness Week project," Anderson said. "We feel that AIDS/HIV effects our community more than people realize and we would like to illuminate this issue. Bringing attention to this issue will hopefully bring education which will in turn encourage people to get tested and practice safe sexual habits."
The Office of Diversity & Inclusion partnered with the Office of Civic Engagement and will initiate a program called Pioneers of Culture & Service that teams up students of differing cultural backgrounds and then has them work together on a community service project. Their project was awarded $650.
"Pioneers of Culture & Service intentionally bridges relationships between the international students and the American students, a need that has been expressed on multiple occasions in years past," said Cristie Thomas, Civic Engagement Coordinator. "The partnership of International and American students is given another level by introducing them to local community partners through both relationship formation and community service. These partnerships are undoubtedly unique and beneficial, particularly to the Mid-Ohio Valley, but also to the climate Marietta College is striving for in their mission for diversity and inclusion."
Another mini-grant request that was fulfilled also involves the Office of Diversity & Inclusion. Xiaotian Li, Coordinator of Diversity & Inclusion, will use the $1,000 of funding to start a Conversation Tutoring Program. It is a volunteer-based initiative that provides a means of supporting international students with English conversation skills. At the same time, American students who volunteer to be tutors will learn about the experience of international students at Marietta College; develop cross-cultural communication skills; and assume a leadership role in their one-on-one pairing with international students.
Faculty in the ESL program support this program by requiring ESL102 students to participate as part of their academic course requirements. Faculty members in the ESL program and the TEFL certificate program also provide support through offering materials to assist tutors in working with students who are developing their second-language skills in English.
A few of the events planned are a Card Game Night on Oct. 14, Bowling at North Hills Lanes on Nov. 11 and a Celebration & Appreciation Dinner on Dec. 3.
"This is a unique and necessary program for Marietta College. It is one way to bridge the gap between international students and American students who desire to meet others from a different culture," Li said. "It also creates a purpose and opportunity for students to learn more about each other through a semester-long commitment. It helps us to build a more inclusive and integrated environment at Marietta College."
Marietta College's Concert Choir and Women's Choir were awarded a $1,000 grant to help offset the costs of a program entitled Wit & Wisdom, which was set up in conjunction with the College's theme. The concert is scheduled for 7:30 p.m., Friday, Nov. 2, at the First Congregational Church in Marietta.
"The concert will be composed entirely of settings of famous texts and quotes by a variety of well-known national and world leaders throughout history," said Dr. Dan Monek, Chair of the Edward E. MacTaggart Department of Music. "Balancing both serious advice and humorous wisdom, the concert explores both of this year's concepts in a thoughtful arrangement of works that highlights both recurring themes and present day challenges through writings and speeches."
The Office of Alumni Relations and the Student Alumni Association were awarded $1,000 to provide a Leadership & Social Justice Film Series, which will open in November (but the date is not set).
Ann Nicely, Associate Director of Alumni Events, said they plan to offer one film in the fall semester and another one in the spring. They also hope to attract a guest speaker for each screening so they can include a Q&A session as well.
"It is the vision of the Marietta College Alumni Association and Student Alumni Association to attract various individuals or groups within the campus community to attend and participate in the viewing, the discussion and analysis of the themes of each of the films," Nicely said. "A particularly beneficial venue for this program is to offer the film series in Harrison Hall so that it could be incorporated as part of the 'Senior Year In Transition Program,' an activity that targets students within the residential areas, and enhances and educates students, staff and faculty members about this year's academic theme."
Marietta College's Physician Assistant Student Society (MCPASS) is hosting the second annual A Night in to Give Back in March. The concept of the event is just as the title states, giving up a night of personal leisure in order to contribute to a meaningful cause, The Africa Burn Relief, an organization founded by a Physician Assistant. Their mini-grant request was funded at $950.
The vision of ABR is to improve the quality of burn care by developing and implementing a sustainable model of treatment, prevention and education in Malawi, Africa — a country suffering from one of the greatest health care discrepancies in the world where there is one physician per 50,000 patients. In Malawi the economy is predominantly agricultural, with about 90 percent of the population living in rural areas where wood and fire are the main source of fuel; as a result, burns are a frequent, and often, untreated consequence.
"Last year A Night in to Give Back attracted people from Marietta College, Marietta Memorial Hospital, Marietta Fire Department and community members and we collected more than 200 pounds of medical supplies and a monetary donation for the ABR," said Elizabeth Blank '13 (Perrysburg, Ohio), a student in Marietta's Physician Assistant Program. "With one successful year in the event's history, MCPASS looks forward to making an even greater contribution to ABR in 2013 with generous aid from the Leadership and Social Justice mini-grant."
One of the projects has already occurred when the Kony 2012 Tour came to campus on Oct. 1 and helped promote awareness of the dire situation and bloody conflict being lead by Joseph Kony and the Lord's Resistance Army in Central Africa. They held a film screening of their most recent production Move, but they also hosted interactive workshops that were open to the campus community. This project was provided $600 of funding.