Music Department announces fall schedule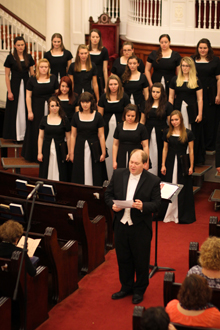 The Edward E. MacTaggart Department of Music will be providing the College and community with a bit of culture and amusement as its 2014-15 concert season gets underway this fall.
The first Applied Student Recital will be held on Wednesday, Oct. 8. These events give some of the College's applied music students their first foray into performing for the public. The other recitals will be held on Nov. 5 and Dec. 3. All recitals will take place at 3 p.m. in the Alma McDonough Auditorium.
On Saturday, Oct. 25, take the opportunity to listen to the women of the Marietta College Concert Choir, along with the River Cities Symphony Orchestra and Parkersburg (W.Va.) High School Chamber Choir, perform Felix Mendelssohn's Op. 61 of A Midsummer Night's Dream. The performance will be held at 3 p.m. at the First Presbyterian Church in Parkersburg. Interestingly, this music selection contains the world-famous Wedding March.
Enjoy an evening of choral music on Friday, Nov. 7, at the First Congregational Church of Marietta. The Marietta College Women's Choir and the Marietta College Concert Choir will both perform. The Women's Choir is under the new direction of Pamela McClain.
This year, the Fall Jazz Concert will be held at 7:30 p.m., Tuesday, Nov. 18, in the Alma McDonough Auditorium. Marietta College's vocal jazz ensemble, FloodStage, and the Marietta College Jazz Band will be providing the tunes for the evening.
Enjoy Music in Literature with the Marietta College Symphonic Band and Wind Ensemble at 7:30 p.m., Monday, Nov. 24, in Fenton Court. The concert will explore how literature has been portrayed in contemporary music.
The annual Tuba Christmas program, which is open to all interested tuba and euphonium players, is scheduled for 4 p.m., Saturday, Dec. 6, at the Friederich Theatre.
Likely the most anticipated program of the season, the 88th annual performance of Handel's Messiah, will be on Sunday, Dec. 7 and held at the Basilica of St. Mary of the Assumption at 7:30 p.m.  Be sure to attend the College's longest running tradition, which will combine the talents of a professional orchestra, soloists, the Marietta College Oratorio Chorus, and the Marietta College Women's Choir.
The fall season concludes with Christmas with the Concert Choir & Orchestra at 7:30 p.m., Sunday, Dec. 14. This is also held at the Basilica of St. Mary of the Assumption.  A professional orchestra will join the Choir for an evening of carols and seasonal music.
All performances are open to the public. For a full schedule of events, check out music.marietta.edu. The Music Department can be contacted at (740) 376-4696. Also be sure to follow the Music Department on Twitter at @marcollmusic.