Music Department earns accreditation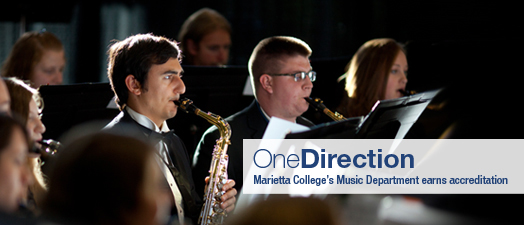 In 2001, when Dr. Daniel Monek became Chairman of the Edward E. MacTaggart Department of Music, the department faced the challenge of rebuilding from recent cuts to its staff and programs.  But the students and faculty wanted to do more than weather this rough time; they wanted to rebuild the music program stronger. 
"There were a lot of strong emotions as a result of all the cuts, a lot of frustrations," Monek says. "So it was a time for us to say, 'OK, here we are and this is what's been done. Let's look forward because if we keep looking behind us, we're not going to get anywhere.'"
Among a number of strategic goals that included curricular development, increased ensemble offerings, and student recruitment; a long-term goal was set to achieve accreditation through the National Association of Schools of Music (NASM). The organization, made up of 644 schools, colleges, conservatories and universities, sets the national standards for undergraduate and graduate degrees and other credentials. NASM is the only accrediting agency covering the entire field of music recognized by the United States Department of Education.
And that's when the music department took its first, small step of many changes and developments that would occur over the next decade.
"We came in that summer — a couple of us — and we painted the walls," Monek says. Gone were the predominantly tan walls with the ruddy brown accent wall. "We put new carpet in because we still had the original carpet from 1965. For me, it was making sure that when the students returned something looked different and better."
This fall, during the annual NASM meeting in November, Monek learned that Marietta College and the Music Department were granted accreditation and full membership status.
"Graduate schools expect the depth and breadth of music study that is represented in NASM schools and prospective students are often in the know enough to ask if we're NASM accredited," Monek says. "Their private teachers and their high school teachers tell them to ask, so it has a big role on both sides."
Interim Provost, Dr. Gama Perruci, knows how hard the faculty, students and staff in the Music Department have worked to reach this goal, and is proud of them.
"Accreditation serves as a stamp of approval — a quality indicator of the work one has done," Perruci says. "Therefore, we were delighted when we heard of the music department's NASM accreditation. It serves as an important piece of evidence that we are offering our students a quality education in this area.
Typically, when a music program is first accredited, it is granted an associate membership, which means the review process happens again in five years. At that point, the institution is granted full membership and a review takes place in another five years, when, if all standards and expectations continue to be met, the institution is placed on a 10-year review cycle.
"The pleasant surprise of this process was our move directly to full membership status," Monek says. "It seems to imply they were impressed with what we are doing.  I think that's something in which we can take great pride."  In addition the NASM Commission on Accreditation commended the department for its "careful and imaginative manner of addressing compliance with NASM standards" and for the quality of its initial self-study.
Though his department is celebrating this milestone achievement for the music program, the students, staff and faculty involved in reaching this goal know full well that the progress didn't happen overnight, in a single academic year, or even in a single decade.
As the College tightened its budget in 2001, Monek, who arrived at Marietta the previous year, began outlining five- and 10-year plans for the music program.
"This list was made up of a progression of steps that moved us in the direction of accreditation. In the five-to-10 year outlook, we wanted to redesign and improve our curriculum, bring back music education, improve our facilities, and refurbish and expand our instrument inventory, which was in a really poor state," Monek says.
The list involved every aspect of music on campus: a digital keyboard lab was needed to teach the coursework; curriculums needed revised because they were outdated; the number of music majors needed to grow; and the instrumental and choral ensemble programs needed to be expanded.
"Needless to say, we had a long way to go, but we had to start somewhere," Monek says. "And most importantly, we had to get everyone involved."
By 2010, the department was ready to apply for NASM consideration.
Jessica Taulbee '13 (Reynoldsburg, Ohio) was one of the students in the department who helped with the self-study process and met with the NASM visiting team when they came to Marietta. She is currently student-teaching kindergarten through fifth grade students at Madison and Criss Elementary schools in Wood County, W.Va.
"My involvement in (the self-study), and the involvement of all the students was in a meeting (with Monek) where we were given the opportunity to voice not only the things about the program that we loved, but also the things about the program that we felt were not where they needed to be," she says.
That information and similar lists from the faculty played a large role in the self-study sent to NASM.
"After that, we began preparing for the visit of the accreditation team," Taulbee says. "The accreditation team held a similar meeting, though by then our answers had changed since the department had worked hard to change things based on our responses at the first meeting."
Eventually, the Music Education degree returned (2006), and a Vocal Performance degree was added (2009), in addition to the Certificate in Vocal Pedagogy (2006). The number of majors grew, as did participation in band and choral ensembles. The band was able to take over space in the Physician Assistant Building at the corner of Third and Butler streets (2009), and the acoustic environment in choir room in Hermann was improved (2012).
Creative innovations to some problems were instituted, including the department's EMTEL program.  Because the College is located in a mostly rural area, the music majors were having difficulty attending music performances, a requirement in the discipline. To address that issue, the music department developed the EMTEL program, which stands for Experiencing Music Through Engaged Listening. Faculty developed a list of musical works that every student with a music degree should study as an undergraduate and uploaded those selections onto a Moodle site. Every week of every semester for four years, students must listen to, study and comment on 60-70 minutes of selections.
"It's a nice technological answer to a problem that we had because of our location," Monek says. "And now, other schools facing the same problem have asked us about setting up similar programs."
The NASM Commission on Accreditation identified two main areas in which the College still needed to progress: load issues for the music unit head and facilities. "It comes as no surprise that these are areas that we need to continue to address," says Monek " a great deal of work has been done but there is always a need for continued improvement."
Though Marietta shifted a part-time position to a temporary full-time instructor, the commission and the department would like to see a more permanent position in order to better balance the administrative and teaching load of the department chairman. Monek says that one of the issues in addressing this situation is that there are very few qualified adjuncts in our area that can teach in the department's needed subspecialties.
The greatest challenge with facilities is a lack of dedicated and quality performance space for our ensembles and the need the growing pains experienced by all three fine arts departments in the Herman Fine Arts Facility. "Most semesters," Monek says "our department teaches in four different buildings on campus — Hermann, the P.A. Building, Thomas and McDonough – and scheduling can be extremely difficult.
There will always be new challenges, Monek is grateful for the continued support of the college administration, community, students, and faculty.  " Our ability to respond so effectively to needs of the accreditation process," says Monek " is due to the hard work of all of these groups in support of music at Marietta College.  We can be truly proud of a strong and vibrant music curriculum taught by a highly qualified faculty that prepares our student-musicians to be the finest performers, educators and leaders in their field they can be."