Music Department excited to present Fall Jazz Concert on Nov. 18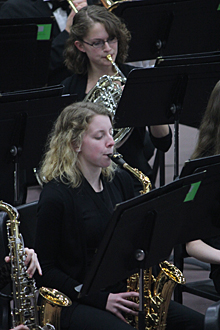 Marietta College's Music Department is ready to perform the annual Fall Jazz Concert at 7:30 p.m., Tuesday, Nov. 18.
The concert features the College's vocal jazz ensemble (FloodStage) and the Jazz Band for an evening of music at the Alma McDonough Auditorium. During the concert, the College's instrumental and vocal groups will explore a variety of jazz classics representing some well-known composers.
Dr. Daniel Monek, Chair of the Music Department, encourages anyone who is interested in attending to show up early as it has become a favorite among community members and the Marietta campus, so seating may be limited.
"This concert presents both new and older presentations of some of the genre's most-loved tunes," Monek said. "It is sure to delight both long-time aficionados and first-time listeners."
The concert is free and open to the public. For more information: (740) 376-4696.