Marietta College receives $1 million gift for Music Therapy program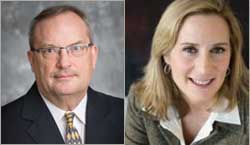 Marietta College President William N. Ruud is excited to announce a $1 million gift from Donald G. '81 and Leslie Straub Ritter '85 that will help start a Music Therapy program.
The College will begin an immediate search for a faculty member to head up the program and begin developing the curriculum in the fall of 2017, and officially start the program as a new major in the fall of 2018. More details regarding the new major and renovations to the existing music program will be announced later this semester.
Current and prospective students who are interested in the Music Therapy program now can work with Academic Affairs to make sure they are taking the appropriate classes that will eventually be incorporated into the new major.
"We are grateful for the generosity of the Ritter family. This gift holds special meaning as Don and Leslie first envisioned a Music Therapy program at Marietta about a decade ago, and their dedication has seen this project through to now," Ruud said. "This is an exciting time at Marietta College. Don and Leslie saw a demand for the program, and we are glad they wanted to make this investment in Marietta. We will move quickly and start graduating high-quality Music Therapy students."
Music therapy is the clinical and evidence-based use of music interventions to accomplish individualized goals within a therapeutic relationship. Board-certified music therapists (MT-BCs) work in medical, psychiatric and educational settings to help clients improve psychological and physiological functioning.
"We are pleased to be in a position to start this program at Marietta. Music Therapy has been a cause near to us since our involvement with Blue Star Connection, and we have always thought the program would be an ideal addition to Marietta College," said Don Ritter, Trustee Emeritus. "It is a major that should attract dozens of new students, enhance the offerings for current music majors, and help with the diversity needs of the campus — as 90 percent of the music therapists are female. Marietta is ideally suited to bring this program to the community, and it will also serve to integrate psychology into the broader mix at Marietta, and provide another professional program associated with the medical industry."
While Don has a long and distinguished career in oil and gas, he is also a director with Blue Star Connection — a charity that provides musical instruments for medically challenged children and young adults. Approximately 500 individuals and 54 hospitals have received support from Blue Star over the last 10 years.
The Ritters also founded Category 5 Amplification, a custom guitar amplifier company. They started the company in January 2006 and the company's endorsing artists include musicians Brad Paisley, Joe Bonamassa, The Kenny Chesney Band, Warren Haynes and many more. Category 5 was specifically formed to support charities and to provide musicians an avenue for giving back.
"We also hope the renovation of The Gathering Place, with the addition of a recording studio, will enhance the offerings of the Music Department, help with accreditation of the music program, and provide a venue and opportunity to allow students to create music and bring live performances to a new level at Marietta," said Leslie Ritter, who is a principal in Square Knot LLC — a consulting firm that specializes in executive coaching, merger integration and execution of human resource strategy. "In addition, there will be opportunities for non-music majors to form bands, rehearse, jam and build new relationships with students through the magic of music."
The Ritters are also challenging the rest of the Marietta community to join them in enhancing the program further. There is a $500,000, 1-to-1 match available over the next five years to add an endowment and further bolster the program. Additional naming opportunities are available.
Marietta currently offers a Bachelor of Arts degree in Music and Bachelor of Music degrees in Music Education and Vocal Performance. Marshall Kimball, Chair of the Edward E. MacTaggart Department of Music at Marietta, is overjoyed the Ritters are making this investment in the arts at Marietta College.
"We in the Music Department are incredibly grateful to the Ritters for this wonderful donation. Because of the size of the donation, this will change the face of the department at Marietta College and the entire College in many ways," Kimball said. "We will begin a national search for a Certified Music Therapist to write a curriculum and start up the program. That person will start in the fall of 2017, and recruitment for the first class will occur during the 2017-18 academic year."
Don Ritter is the CEO of Endurance Resources — an oil exploration and production enterprise focused on the Delaware Basin, which is located in West Texas and Southern New Mexico. He helped found the company in 2008 following a successful career with Mobil Oil and then GeoMechanics International.
"Don and Leslie are dedicated members of the Marietta College community, and their gift mirrors our commitment to the liberal arts and strong pre-professional programs," said Angela Anderson, Vice President for Advancement. "The Ritters are another shining example of passionate, caring and philanthropic members of The Long Blue Line."