New academic year gets underway at Marietta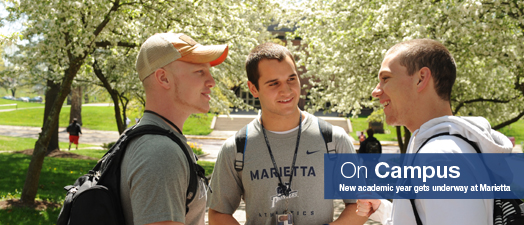 Aimee Cline '14 (Rittman, Ohio) doesn't recall her first day of classes during her freshman year.
"I remember Matriculation and moving in my freshman year, but the first day of class is a blur," she says.
Fall semester officially kicked off Monday, Aug. 26. Like most sophomores, juniors and seniors, Cline spent part of her last first day of classes at Marietta in the Dyson Baudo Recreation Center filling out paperwork and having her yearbook photo taken. She took a moment to reflect on what she hopes will be a great final year as a student at Marietta.
"It's exciting," she says. "I plan to have fun this year, to really enjoy my time here. It goes by way too fast."
As a thrower on the women's Track & Field team, she anticipates a good final year for the team as well.
Jason Turley, Dean of Admission, said 393 freshmen registered for classes on Friday. He said the class' high school grade point average is more than 3.5 on a 4.0 scale.
"Academically, this is one of the strongest classes we've had in 30 years," he said.
After Matriculation on Friday, the student body rose to about 1,400 students.
Lindsey Kudaroski '14 (Washington, Pa.) was also ready to start her final year at Marietta, though she wasn't ready to see it come to an end. She spent the summer working for a company that may offer her a job after graduation, but she's still torn between finding a job or pursuing graduate school.
"I'm excited about my future but it's scary at the same time," she said. "It's really going to be hard leaving Marietta."
The Pioneer Activities Council (formerly known as CUB), the Alumni Association, and other organizations have planned a number of events to welcome students back to campus. Starting at 7 p.m. Monday, there is a Speed Greeting event in The Gathering Place. From 10 a.m. to 2 p.m. Tuesday, the Young Pioneer Network is hosting a Get the Scoop event in the Kremer Amphitheatre with a Trivia Night starting at 8 p.m. in Izzy's. From 11 a.m. to 2 p.m.
Wednesday, there will be a Civic Engagement Fair on The Christy Mall, followed by a Campus Involvement Fair from 4 to 7 p.m. at the same location.
Desserts and door prizes will be offered Thursday starting at 6 p.m. in Andrews Hall's Great Room during the MC Life Hacks & Pro Tips event, which aims to help students adjust to residence hall living.
On Friday starting at 4 p.m. and lasting to 10 p.m., the green space along Fourth Street will be the site of multiple Tactical Laser Tag matches. Teams of up to 12 players can play at a time.
Saturday starts bright an early with a 9 a.m. Saturday of Service. The first 50 attendees in Gilman will receive a free T-shirt as the group begins service opportunities at various sites in the community. Also on Saturday, men's soccer will play a 3 p.m. game against Penn State-Beaver at home on Marietta Field. At 8 p.m. Saturday in the Alma McDonough Auditorium, Dakaboom, made up of best friends Ben and Paul, will provide a humorous and entertaining performance to the student body.